Waterstone Faucets Argonaut Bath Collection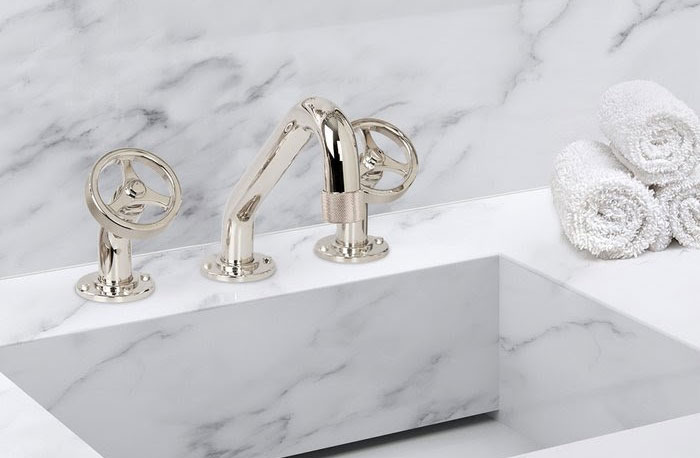 May 3, 2022
Waterstone Faucets has launched the Argonaut Bath Collection after three years of development. This is the first bath product line from the brand, which is known for crafting kitchen faucets, faucet suites and accessories. The collection includes 18 fittings designed to complete a primary bathroom. Featuring patented designs inspired by Waterstone's naval roots, the Argonaut Bath Collection highlights textured diamond knurling, mono-spoke forms and steampunk-inspired detailing.
Engineered with luxury, function and artistry in mind, the new collection features accessories, including towel bars and robe hooks, and plumbing fixtures, including tub fillers, lavatory faucets and showerheads. Some pieces – such as the Thermostatic Shower Trim, which features a gear and sprocket crank knob – convey a new look that's reminiscent of the controls found inside a submarine. Others utilize Waterstone's renowned technology also used in its patented kitchen faucet designs – such as the Retractable Wheel System with Hand Shower, which uses wheel spring technology to ensure a smooth pull before locking back into place.
The collection is made from solid brass and is available in six finishes: polished nickel, satin nickel, chrome, classic bronze, matte black and unlacquered polished brass. The finishes are corrosion and rust resistant, made specifically for humid environments. All finishing is completed in-house at Waterstone's headquarters in Southern California. 
Below is a preview of select products and their features:
Thermostatic Shower Trim with Built-In Volume Control
A two-handled thermostatic valve trim with dual function cartridge and a unique gear and sprocket crank knob. Separate three-spoked knobs control for desired volume and temperature, including hot limit stops to prevent scalding and a push and turn handle to override the hot limit stop and increase water temperature. The solid-brass fixture features a diamond knurling pattern and faux mounting bolts for a steampunk-inspired design.
Lavatory Faucet
A widespread deck-mounted lavatory faucet with intricate diamond knurling on the spout tip and valves with three-spoked side knobs that allow for desired volume and temperature control. The angled spout has a 6-3/8-in. reach and 1.75 gpm maximum flow rate with aerated tip.
Freestanding Tub Filler with Hand Shower
A floor-mounted, freestanding tub filler with dual-lever handle operation to control desired volume and temperature with an 18 gpm flow rate. The hand sprayer operates in three modes: spray, rain and massage. Spray arm spring technology with a long-reaching 60-in. hose gives the sprayer an easy, smooth pull. Intricate diamond knurling details the spout and showerhead, giving a steampunk-inspired design.
Double Robe Hook
Designed to hang two heavy robes or towels, the dual hook mounts on walls or doors. The mounted hook is made from solid brass, featuring industrial diamond-knurling and faux mounting bolts.
Slide Bar with Hand Shower
The 27-in. wheeled slide bar is optimal for customizing the height and angle of the handheld shower, using a three-spoked tension knob that locks the slider in place to adjust height preference. A separate diverter allows toggling between the hand shower and showerhead. Made from solid brass and complemented by an intricate diamond knurling pattern.