American Standard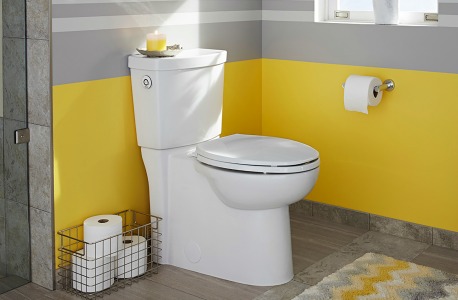 June 24, 2015
Developed to provide a hygienic, no-touch toilet flush, ActiVate toilets by American Standard also deliver high performance and water savings. The toilet flushes with the wave of a hand within two inches of the sensor. No touching means fewer germs,  and the toilet bowl base features straight, smooth sides for easy cleaning. Additionally, the toilet  and seat include EverClean, the antimicrobial additive that inhibits the growth of stain and odor-causing bacteria, mold and mildew on the surface. American Standard ActiVate models also include a manual flush. 
The ActiVate touchless flush sensor is powered by four AA batteries that last up to two years, assuming an average of 12 flushes per day. These ActiVate high efficiency toilets (HETs) achieve the highest bulk removal score on the Maximum Performance (MaP) test, an independent report of toilet performance. They meet stringent WaterSense-certification criteria from the U.S. Environmental Protection Agency (EPA) for providing high performance while using 20 percent less water than standard toilet models.
ActiVate toilet models are available at wholesale showrooms and retailers nationwide.