Duka Libero 5000 Inlab for Niches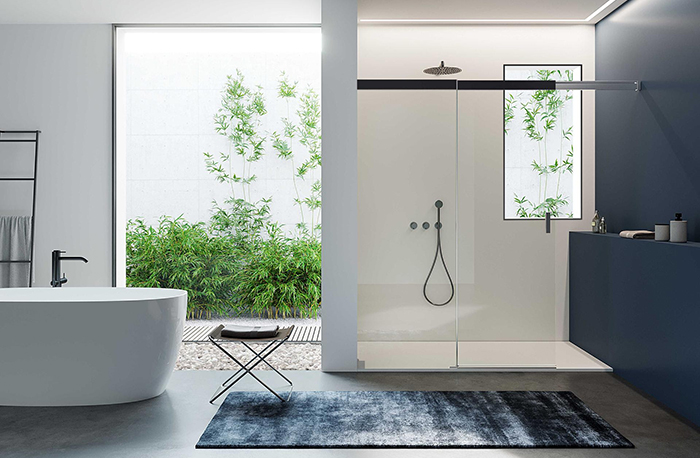 April 28, 2023
Duka's Libero 5000 Inlab, the intelligent and functional walk-in solution, is now available for niches. This new solution allows exploiting the full potential of the bathroom space and managing any architectural obstacles while offering maximum comfort, safety and aesthetics. 
The Libero 5000 Inlab for niches maintains the characteristic light and smooth movement of the door, which is positioned behind the fixed panel, ensuring a smooth and comfortable entry and exit from the shower. During showering, the mobile element can be closed, providing optimal protection from splash water while preserving the walk-in feature. 
The new version is based on the desire to offer an 'open' and unconventional solution for niches, capable of adapting and responding to specific design requirements. This solution is ideal especially when dealing with complex contexts, such as a room with an irregular floor plan or one that is characterized by the presence of a window in the shower space, a protrusion, an architectural obstacle or even a particular wall cut-out. The sliding profile can be adapted/cut as required, and the support bar of the corner solution is eliminated so as not to create an obstacle — all without compromising the functionality and stability of the shower enclosure. 
Also offered with 8 mm safety glass, this walk-in solution is equipped with the ACS system and automatic close and stop, thanks to which, with a simple gesture, the door gradually slides behind the fixed element. 
The sliding elements are equipped with height-adjustable ball bearing rollers. They guarantee a perfect and silent gliding of the doors. The sophisticated seal system prevents water from escaping from the shower area. The discreet aluminum profile is attached flush to the base of the glass with no protrusion, cutting potential dirt residue to a minimum. The PVC seal insert features an inner deflector and soft, downward-angled PVC flaps. Barely visible, they offer outstanding performance and can be removed with ease for cleaning or replacement if required. 
Duka's Libero 5000 Inlab for niches presents three installation options — with wall profile, without profile and with flush-mounted profile, whereby the shower enclosure is fixed to the wall with a profile integrated into the wall. 
Finally, the variety of finishes available for the glass and the frame offer many possibilities for customizing the bathroom space.