Duravit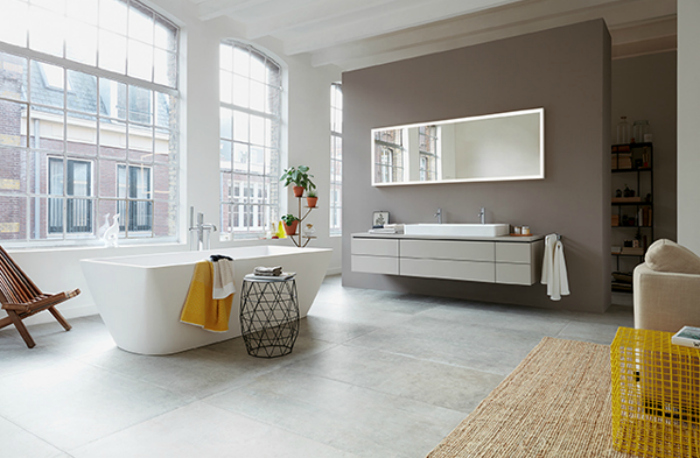 July 25, 2017
DuraSquare, the newest introduction from Duravit, blends rectangular, clean edges with smooth, curved contours for an elegant juxtaposition between sharp and chic. The collection features ceramics as well as a fresh take on furniture, offering a full-service series.
The collection's washbasin boasts architectural design with defined lines and edges. The washbasin's thin walls, which are only 3/16 in. thick, are thanks to its DuraCeram construction. The flowing inner basin contrasts the sharp geometry of the washbasin's exterior. The basins are available in standard dimensions, including 39 and 24 inches (washbasins), 18 inches (hand-rinse basins), and 24 inches (above-counter basins).
The DuraSquare furniture includes a chic console frame that is height-adjustable and available in either silver (chrome) or matte black. The furniture frame features a glass shelf that is available in six different colors and designs including Jade, Stone Blue and Flannel Grey, each of which brings a unique, personalized splash of color to the bathroom. Along with the glass shelf, the furniture frame includes a sleek towel rack for added convenience.
DuraSquare's bathtubs round out the collection and mimic the shape found in the washbasins. Made of the company's proprietary cast mineral material DuraSolid, the bathtub has a warm, luxurious feel and is available in a 71 by 31 inches built-in version and 73 by 33 inches freestanding version.