Jacuzzi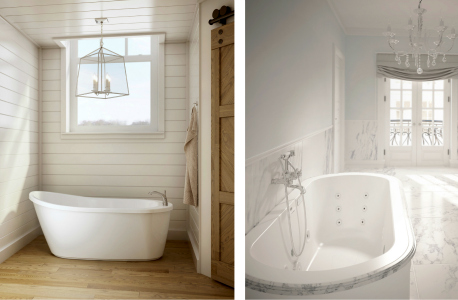 June 28, 2016
Celebrating its 60th anniversary this year, Jacuzzi Luxury Bath has expanded its bathtub offerings with the new Arietta and updates to its Duetta Family.
Arietta, a simple aria in an opera, is the name of the petite new bathing vessel designed for cozy spaces. The Arietta Freestanding is a 59-by-32-in. contemporary slipper-style bath with center deck-mount faucet compatibility and is suited for restrictive 60-in. spaces. To simplify installation, the Arietta bathtub comes pre-leveled from the factory with a Tru-Level base. The Arietta bath is available in the hydrotherapy Soaking experience. 
Jacuzzi has also updated the design and added TargetPro Jets to its  Duetta Drop-In/Undermount Family. The Duetta bathtub now boasts new jet styles, a new linear overflow and modern changes to its bathing well. One of Jacuzzi's core oval hydrotherapy offerings, the tub now features a streamlined interior bathing well achieved by eliminating the jet recesses, which have been replaced with low-profile TargetPro and SlimPro designs, and the overflow drain has been upgraded. 
The Duetta Family offers four sizes ranging from 60 by 42 in. to 72 by 42 in. A total of fourteen jets –four TargetPro jets on the sides and 10 SlimPro jets at the back and feet – offer Aqualibrium, a balanced mix of air/water providing a comfortable massage. The Duetta Family is available in Soaking, Pure Air, Whirlpool and Salon Spa experiences. On the Whirlpool and Salon Spa models, the patented TargetPro Jets offer a sleek aesthetic that is easier to clean and has improved 360-degree air introduction as well as 60 degrees of adjustment and complete shut-off capabilities. The SlimPro jets are ultra-low profile and still offer full adjustability, allowing for a customized experience. Additional feature combinations are available on all sizes of the Duetta, giving homeowners the ability to purchase the Duetta design in a wider range of configurations than before.