Kohler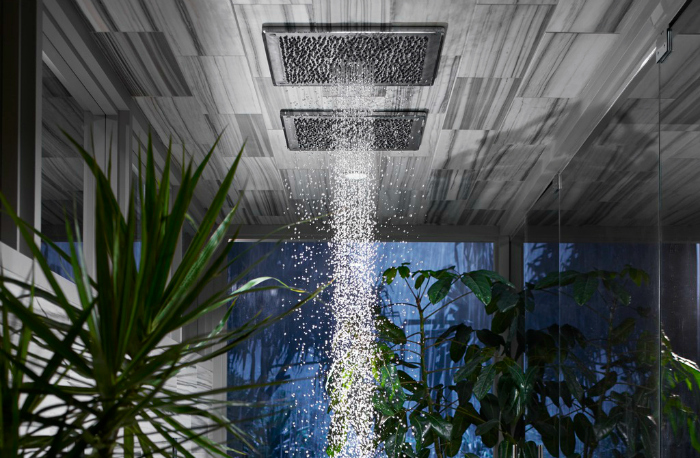 January 23, 2017
Kohler has created Real Rain, a showering experience that offers the experience of a summer rainstorm. A multi-sensory experience, Real Rain emulates the unique and entrancing feel of a warm rain in a way that is dynamic and dictated by the user's desires. The look and feel of natural rain is accomplished in numerous ways. First, an innovative sprayface design has a unique nozzle geometry that simulates rain by adjusting the size of the water drops. The rates at which the drops fall is varied and random, just like in a true rainstorm.
The shower is designed with a water reservoir that relies on gravity rather than the typical pressurized spray to shape the water, using 775 concave nozzles to start the storm off slowly and then build. The pitter-patter of drops grows in intensity as it swells into a warm summer storm. Finally, to capture the moment the sky opens up and the rain truly pours down, the on-demand deluge feature releases the water in the reservoir, soaking the bather in an extravagant flood of water. For bathers who prefer not to feel too much water on their face as they shower, Real Rain has a 6-in. dry area when not in deluge mode that keeps the rain away from the face.
The look of the Real Rain panel is minimalist and modern: the square silicone sprayface is ceiling mounted with a panel measuring 19-by-19 inches. In regular spray mode, Kohler's Real Rain flows at 2 gallons per minute and complies with CALGreen requirements. Available finishes include polished chrome, vibrant polished and brushed nickel, matte black, vibrant titanium, vibrant brushed bronze and oil-rubbed bronze.