Kohler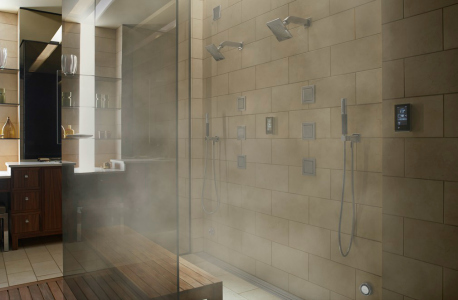 February 24, 2016
Kohler's new Invigoration Series of steam generators and controls puts the power in the hands of homeowners to customize their ideal steam shower experience. With 10 different steam generators, showers ranging from 84 to 1,000 cu. ft. can be readily adapted to offer a rejuvenating steam shower for the home. 
The Invigoration Series was developed to allow customers to create a personal experience every time they step into the shower. Kohler's Fast-Response Technology results in abundant steam within one minute of pushing the power button. The system is designed to produce steam at a constant rate, and this steady, reliable generation minimizes temperature fluctuations. 
The Invigoration Series can be paired with Kohler's steam control kits or also with the KOHLER DTV+ digital showering system, which has an interface that is clear and intuitive and gives users a chance to create a completely personalized experience by controlling the operation, time and temperature. The Power Clean feature simplifies maintenance by eliminating manual flushing; a simple push of a button clears any sediment out of the generator via the steam head. The Invigoration Series is compatible with all Kohler multi-sensory components. 
By incorporating steam, users can also enjoy environmental benefits as the steam uses just one gallon of water per 20-minute session, significantly less than a traditional shower. Keeping safety top of mind, the system is designed to shut down automatically after 20 minutes if it has not been reactivated by the user. In addition, the steam generator cases are constructed from insulated stainless steel, which keeps the temperature consistent while remaining safe to touch. 
The Invigoration Series components are offered in Polished Chrome, Vibrant Brushed Nickel, Vibrant Polished Nickel, Vibrant Brushed Bronze and Oil-Rubbed Bronze finishes. The Series comes with a Three-Year Limited Warranty on steam generators and a Five-Year Limited Warranty on controls.