Mansfield Plumbing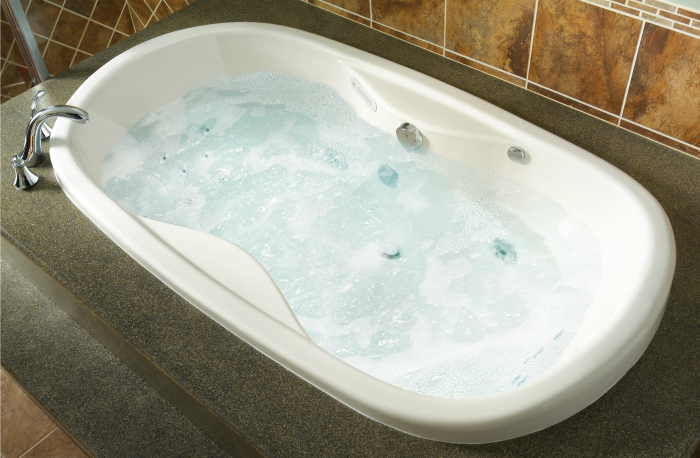 April 25, 2017
Mansfield Plumbing has introduced several new products and enhancements to its Swirl-way Luxury Series of acrylic bathware. A new Swirl-way Combination Whirlpool and Air Massage Bath System combine the luxury of having a tub with both whirlpool jets and an air massage bath all in one easy-to-use system. Available in 13 models, this bath system includes the Hydro-V backjet system, an inline heater, fully adjustable jets, chromatherapy light system, ozonator and multi-function electronic keypad.
Mansfield Plumbing has enhanced its Swirl-way systems with other significant changes, too. The inclusion of an ozonator as a standard feature of the Swirl-way Comfort Package whirlpools and the Combination systems automatically emits bacteria-killing ozone into the whirlpool piping system twice every 24 hours. The ozonator is also available as an option on the Swirl-way Essentials Package whirlpools. New draining options for Swirl-way tubs include a Tip Toe Drain that provides fast and easy draining by simply tapping the drain with your toe to open or close the drain. Additionally, an effortless twist operation is available with a Cable-Operated Drain. Both are available in chrome, brushed nickel, Everbrass or oil-rubbed bronze. Flush-mount air injectors are now included in the construction of Swirl-way Air Baths. With this system, air is forced through the air injectors, which are installed on the back wall of the tub. Each air injector has a check valve that prevents water from flowing back into the airline.
The Swirl-way line includes five hydrotherapy systems: bathtub, whirlpool bath, air massage bath, combination whirlpool and air massage bath and the MicroDerm therapeutic bath. Durable high-gloss cast acrylic is used to construct each system.