Stone Forest Facet Bathtub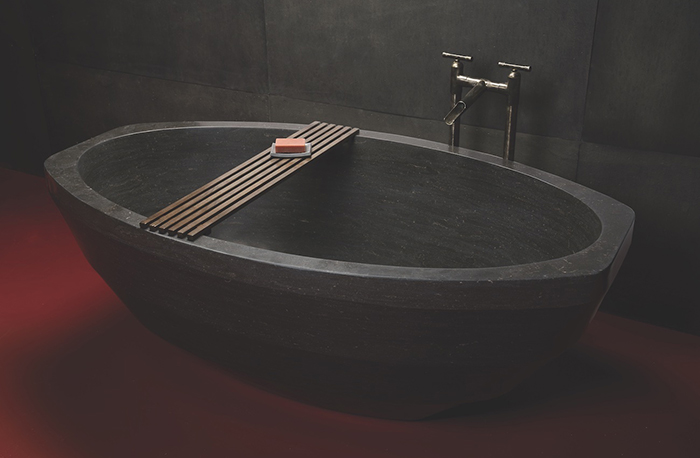 May 8, 2023
Stone Forest adds another notable design to its bathtub collection with the introduction of the Facet Bathtub. Carved from single blocks of Antique Gray Limestone or Noce Basalt, these architectural statement pieces are the embodiment of functional sculptures, emphasizing the simple beauty of natural stone.  
Handcrafted to create subtle flat planes that reflect and refract light when viewed from different angles, the unique faceted exterior makes a strong architectural statement. Taking three weeks to complete, the ovoid shape is squared at each end to provide a small rest for accouterments, while the interiors are smooth and inviting.   
The Stone Forest tub is available in two luxurious stones — Antique Gray Limestone, also called "bluestone", and Noce Basalt — that are sourced from quarries throughout Europe. As with other stone tubs, the material takes on the ambient temperature of the room, creating a vessel for experiencing soul healing calm and the suspension of time. 
Antique Gray Limestone is a sedimentary rock that derives its charcoal-gray color from the different minerals that fossilized in layers. This stone has some non-structural inclusions that may appear as thin white lines.   
Noce Basalt is an igneous (volcanic) material formed primarily from the rapid cooling of lava, which flows near the surface of the planet. Dense and durable, basalt lends itself to a wide range of sculptural applications.