TOTO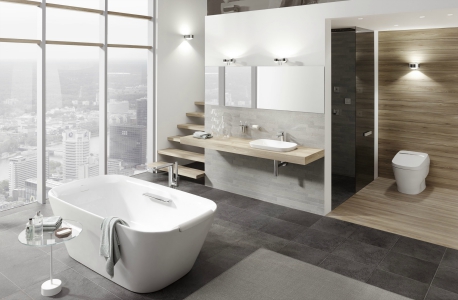 July 16, 2015
Adding to its NEOREST suite, TOTO debuts the NEOREST Vessel Lavatory and Freestanding Tub, which complement its NEOREST 700H dual-flush toilet with integrated personal cleansing system.
The NEOREST vessel lavatory updates the classic vessel with its sculptural, semi-recessed design. The NEOREST vessel is available in two sizes: 29-1/2 in. by 16-15/16 in. and 23-5/8 in. by 15-3/16 in., each with a porcelain drain cover. SanaGloss glazed for easy cleaning, the deep basin is designed to reduce splashing.
The NEOREST Freestanding Tub  is a soaking tub constructed of reinforced marble. At 70-7/8 in. by 37-3/8 in., the tub offers a deep bathing well that allows for total body immersion. Its generous length will easily accommodate two. The thickly-framed marble rim rests above gently tapering sides, which create a natural, curved backrest. Its slip resistant surface, twin polished chrome arm rests and pillow headrest round out this addition to the NEOREST Suite.