Nobilia Sign Emotion LED Mirror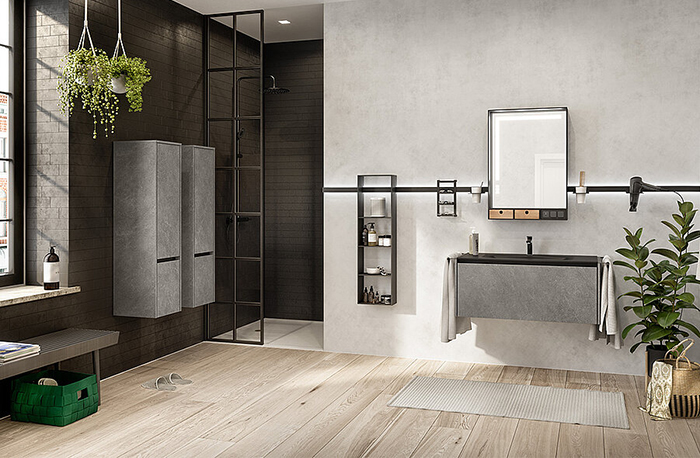 September 3, 2023
Nobilia has introduced the Sign Emotion LED Mirror, an addition to the world of bathroom design that seamlessly blends aesthetics, functionality and innovation. This cutting-edge creation redefines the way we envision bathroom spaces, offering a plethora of features that promise to transform ordinary routines into extraordinary experiences. 
The new mirror boasts a meticulously crafted aluminum shelf unit that radiates elegance and modernity. With a width of 600 mm, this mirror serves as a focal point for the bathroom, bringing a sense of style and sophistication to every corner. The LED lighting, thoughtfully placed on two sides of the mirror, provides soft, flattering illumination that not only enhances visibility but also creates an inviting ambiance. 
This exceptional mirror goes beyond the ordinary by incorporating features designed to enhance your daily routine. Equipped with two USB charging ports, the Sign Emotion LED Mirror ensures that your devices are always powered and ready to go. No more searching for outlets or fretting over low-battery notifications – convenience is literally at your fingertips. The addition of a double socket with contact protection further emphasizes nobilia's commitment to safety and functionality. 
The Sign Emotion LED Mirror understands the importance of organization. With two small wooden storage drawers, it allows you to keep your bathroom essentials neatly tucked away, providing a clutter-free environment that enhances the overall visual appeal. These drawers not only serve a practical purpose but also lend a touch of warmth and natural beauty to the mirror's design. 
Nobilia's attention to detail shines through in the Sign Emotion LED Mirror's design. The rounded corners add a soft, inviting touch that complements the mirror's clean lines and sleek structure. This attention to aesthetics ensures that the mirror effortlessly integrates into a variety of bathroom styles.