Brokis Brokisglass Mosaics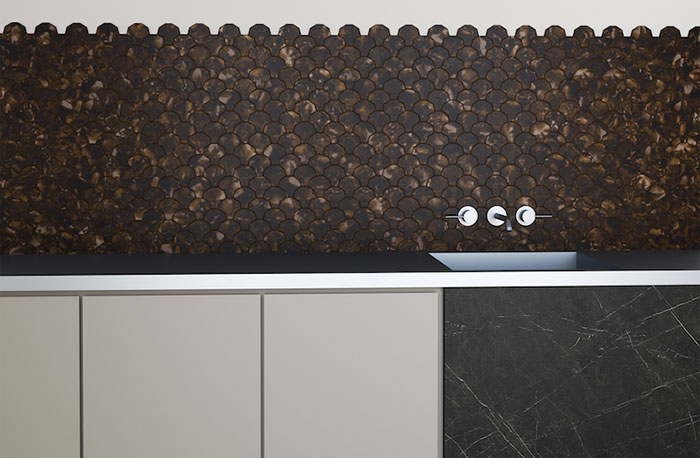 August 14, 2023
Czech lighting manufacturer Brokis is repurposing Brokisglass, a material developed from glass shards generated during the production of Brokis lighting products, into elegant tiles. From the wings of a butterfly to mountainous rock formations, from the harmonious geometry of a beehive to the singularity of a drop of water, the shapes of the Brokisglass fragments are directly inspired by nature.
Each piece is unique, the result of traditional craftsmanship, with variations in color within the same fragment and subtle nuances from one tile to another. The texture of the glass also lends an exceptional depth to the Brokis tiles, creating enchanting, timelessly elegant compositions.
Thanks to its intrinsic qualities — high water resistance and resilience to abrasive chemicals and wear tolerance — Brokisglass can be used for a wide range of applications, including bathroom wall coverings, kitchen credenzas and more. Its glossy finish also ensures that it is easy to maintain.
Sold individually or pre-assembled on a fiberglass lattice, Brokisglass Mosaics are available in five different shapes and three colorways. Embracing its expertise, Brokis also offers customized solutions, such as bonding to wood fiber panels or other underlays to suit the specific requirements of each project. Additional color options are also available on request.