Graham & Brown Abourm Morn Bespoke Mural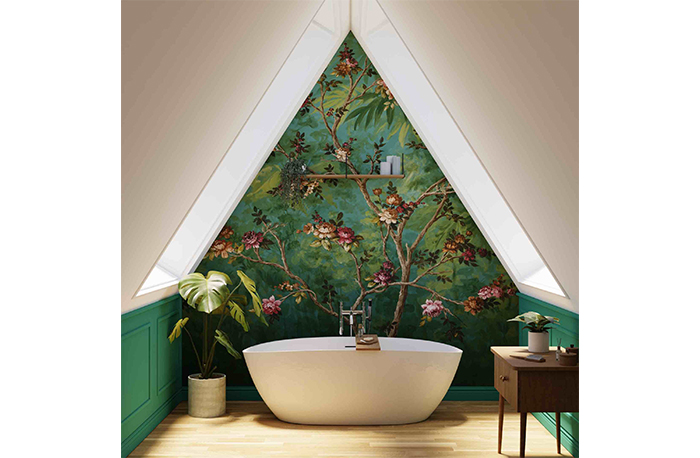 September 15, 2023
Graham & Brown has introduced new jungle- and flora-inspired customizable wall murals, including the Abourm Morn Bespoke Mural. The British company has just launched three new designs that all take cues from nature in stunning colorways that perfectly pair with Graham & Brown paint and curtains to create a full room solution. Every wall mural is made to order, greatly reducing waste, and each is available in several paper finishes — durable smooth, fabric effect, mica fibrous and fibrous. 
Coppice Forest Sunset Bespoke Mural — Coppice is the perfect treescape for creating a calming feature in any space. With the foliage concentrated at the top of the design, the treescape not only creates drama but can give the illusion of taller ceilings in the room.
Abourm Morn Bespoke Mural (pictured) — Featuring simplistic styling and delicately hand painted in Graham & Brown's design studio, this mural displays the company's love of the craft of the design. Reminiscent of an old masterpiece, the design allows painterly florals to sing against the light background. It is available in Morning, Day, Twilight and Night colorways.
Angkor Jungle Morn Bespoke Mural — This intriguing jungle scene is perfectly framed by large marble archways. A playful interpretation of the famous Angkor ruins in Cambodia. It is available in Dusk, Morning, Day and Night colorways.
All of Graham & Brown's eco-murals are produced using FSC-certified paper coming from responsibly managed forests and utilize renewable energy to print. Made to order means minimal waste is produced. The company also uses water-based inks free from harmful chemicals. All orders are delivered in 100% recyclable packaging made from 100% sustainable sources.