Lunada Bay Tile Shinju Ceramic Collections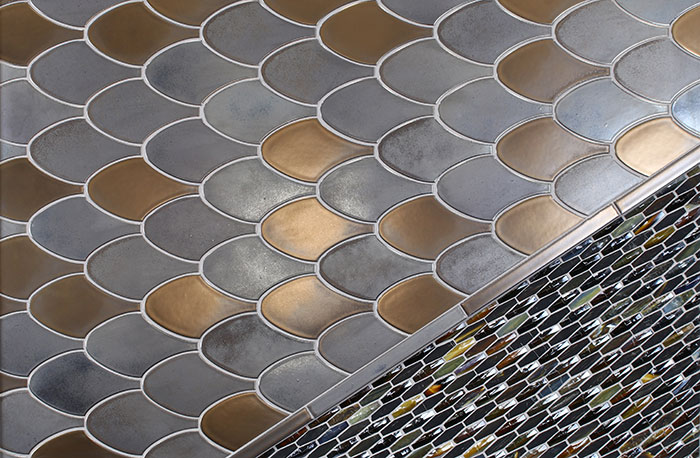 August 11, 2023
Lunada Bay Tile is expanding its popular ocean-inspired Shinju ceramic collections with new shapes in Shinju – the Stingray and Surf Rail patterns – and Cape Pearl, a new color for both Shinju and Shinju Mirai. 
Featuring beautifully crafted textures in a versatile palette of whites, grays and silvers, as well as variegated metallic glazes, Shinju, (including Shinju Mirai, a larger format ceramic with sophisticated textures) has become an inspired choice for many designers looking to create an elegant architectural statement. Each design influences the sense of scale, transforms light and creates resonance. Textures and colors can be mixed for a modern effect or used singly for a refined mood.
Shinju, which means "pearl" in Japanese, gains two new patterns — Surf Rail, a rectangular three-dimensional tile, and Stingray, a classic scallop shape. A new color, Cape Pearl, joins both collections and suggests the craggy gray exteriors of Pacific oysters. Other classic colors in the line include Kumamoto (white), Kushi (light silver), Moonstone (dark silver), Pacific (chocolate brown/bronze) and Olympia (dark copper). 
Additional patterns within Shinju include Tide, with a lined texture that reflects the rising and falling of the sea; Cambric Hex, with texture inspired by the ocean floor; Swell Mosaic, a mosaic of multi-sized tiles inspired by rolling waves; Crest, with a dimensional, slightly raised center across the hexagonal shape; Reef, a contemporary visual with a coarse texture similar to its craggy namesake; and Silhouette Mosaic, playful shapes within handmade ceramic tiles allow grout color to be another design element. 
Shinju Mirai, a handcrafted ceramic tile collection, comes in seven patterns that can be used alone or in combination — Pianola is a subtle pattern reminiscent of  musical patterns of a timeless melody; Paper, a dynamic texture suggestive of energizing waves or crinkled paper; Serene, featuring the subtle ripple of tranquil waters; Tent, offering minimalist beauty and architectural appeal; Zen Garden, exuding the calm essence of meditative gardens; Elon Hex Reef, a hexagonal ceramic field tile inspired by ocean reefs; and Elon Hex Smooth, a hexagonal ceramic field tile with smooth surface. 
Shinju from Lunada Bay Tile is a high-fired clay suitable for indoor and outdoor use on walls and low-traffic residential floors, showers and steam showers.