New Ravenna Heritage Collection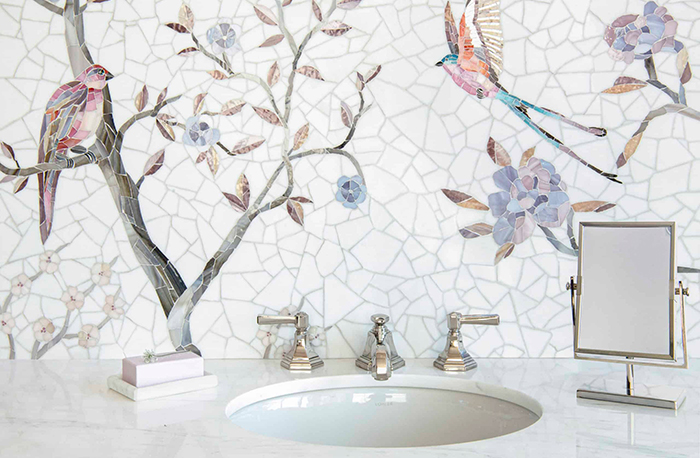 December 25, 2022
New Ravenna is pleased to present the Heritage Collection in celebration of the company's 30th anniversary. The 14 mosaic designs in the collection are handcrafted in Virginia from stone, jewel glass and Glazed Basalto with accents of brass and metallic glaze. Heritage was inspired by New Ravenna's three decades of artisan innovation, which have created an American legacy in the art of mosaic design. The essential design ethos from each decade was reinterpreted to create a collection that honors ancient mosaic techniques, while celebrating innovation in materials, and imaginative design. History, Texture  and Color comprise the categories, which reflect each decade.
The mosaic collection journeys through New Ravenna's three decades of design, innovation and craftsmanship by reinterpreting its most popular patterns and textures and showcasing intriguing new materials. The History patterns from the first decade reflect the company's beginning, when designers were inspired by the ancient mosaics of the Roman African tradition. Texture informed the second decade when New Ravenna innovated in the creation of tatami, cosmos and Venetian honing techniques. That was the decade designers also incorporated metallic accents to add reflective shine and glamour. Color dominated the third decade as the company expanded its palette options by adding brilliant jewel glass and Glazed Basalto, as well as pioneered ombré blends and discovered the joy of adding bold pops of color.
Heritage includes multiple finishes to create textures that reflect historical precedence. The materials in the collection have been honed, polished, pillowed and tumbled. Mosaic techniques range from hand cutting and chopping to water-jet. Depending on the material, Heritage can be installed on walls and floors, indoors and out.