Oceanside Glasstile and Island Stone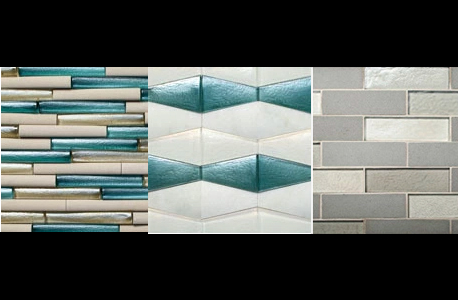 May 5, 2016
Oceanside Glasstile and Island Stone launch their new marriage of glass and stone with a new collection, Kinship. Anchored in beach culture and driven by a passion to create four designs, the two companies pair the best of their offerings to create one collection that contains Converge, Origin and Unison and Abode.
Drawing inspiration from the coastal bluffs and epic point breaks of these kindred spirit's backyards, Kinship's Crescent piece has inspired two new patterns. Converge features a gentle cascade of pieces, while Lineage mimics the mild rise and fall of an ocean's swell. Fully customizable with the entire Oceanside Glasstile palette, the Converge and Lineage patterns will also feature mint sandstone, grey sandstone, and silver quartzite.
Inspired by the subtle sand dunes of Indonesia's cascading beaches, the Wedge piece offers an understated dimension with its gentle slopes and rounded edges. With two new fully customizable patterns, Origin and Unison stand in opposition. Where Origin offers a random pattern, Unison offers harmony through a timeless linear placement.
Kinship's third and final new pattern, Abode, is a nod to the timeless nature of an offset brick. Featuring a 1 1/4-in. x 4 1/8-in. mosaic rectangle, Abode is fully customizable with all four new stones and the entire Oceanside Glasstile color palette.