Wilsonart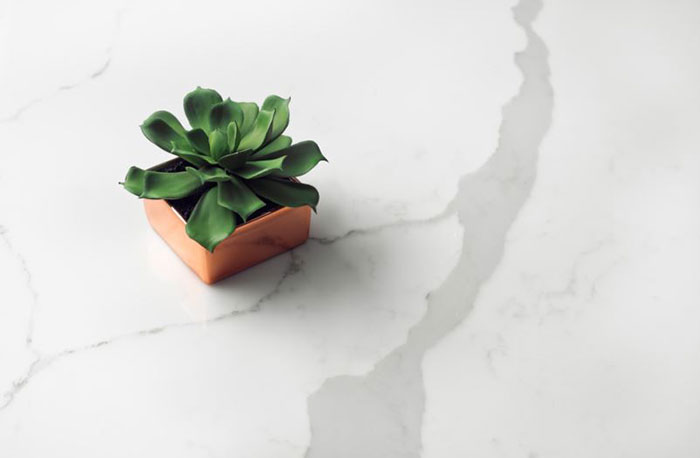 May 3, 2017
Personalization is not black or white; it's a blurring of individual experiences and backgrounds that emerge when a space begins with a stunning foundation. This idea is the inspiration behind the eight new additions to the Wilsonart Quartz Collection, previewed at the Kitchen & Bath Industry Show earlier this year.
Wilsonart, a world leading provider of total engineered surfacing solutions, debuts these quartz additions in support of key design trends defining attainable luxury in the realms of color, material and scale. New offerings, such as a bookmatched design and sealed concrete, give spaces a personalized touch. As commercial and residential aesthetics continue to collide, the demand for highly flexible designs continues to increase. From bright white and understated grey to deep charcoal and bold black, this new collection supports and elevates the design intent in hotel lobbies and chic office spaces to bathroom vanities and kitchen countertops.
The new quartz designs take their cues from marble, concrete and reflective metals to build a base upon which to showcase luxury, redefined by the individual.
Empire State (Q1015) – Reminiscent of sealed concrete, Empire State is a fine-scale tone-on-tone grey quartz countertop with white and charcoal features throughout.
Manhattan (Q1016) – This design is light grey resembling a fine-scale concrete with white and charcoal features.
Vesuvius (Q1017) – Vesuvius is a solid black fine-scale pattern with the occasional white or glass speck throughout the slab.
Lazio (Q1018) – A solid bright white fine-scale quartz, Lazio features intermittent grey or colored particulates throughout the slab.
Versailles (Q2007) – Versailles is a medium-scale design in charcoal and grey with an added depth of metallic reflectivity.
Tellaro (Q4025) – Tellaro is a semi-translucent quartz with white and grey flowing together creating a beautiful design punctuated by taupe veining.
Marrara (Q4026) – Inspired by Carrara marble, this unique design features grey veining in a warm white, semi-translucent background.
Lucca (Q4027L) – This statuary-like marble design is set in a cool white background; the large grey veining is complex and highlighted by white and brown features. A special order bookmatched companion available.
"The world isn't black and white, and neither is this collection," said Natalia Smith, Design Manager at Wilsonart. "Classic and timeless, these designs will shine on their own and provide the perfect opportunity to showcase an authentic, personalized design story."