WOW Design Casbah Collection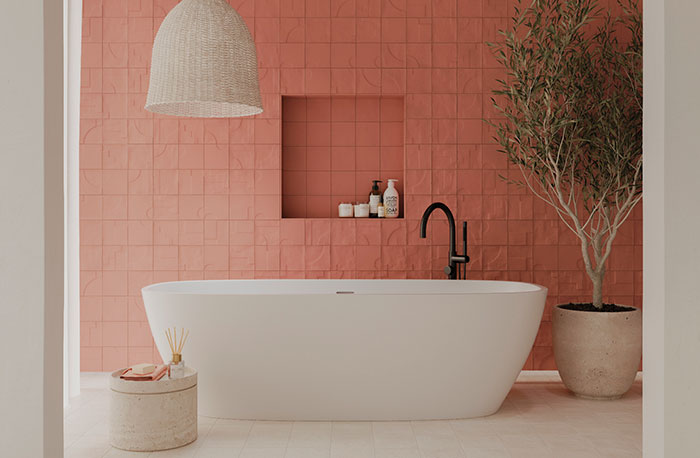 August 18, 2023
WOW Design ceramic tile studio has launched its new Casbah Collection. This series of ceramic tiles is a nod to the colors and geometric shapes of the project known as "La Muralla Roja" (Red Wall), the work of highly acclaimed architect Ricardo Bofill, and which today has become a viral phenomenon.  
"La Muralla Roja" in Alicante, Spain, is one of Spanish architecture's most intriguing buildings, characterized by a size, colors and forms that are guaranteed to make heads turn. Boasting stunning views of the Mediterranean Sea and the magnificent Peñón de Ifach crag, it is composed of volumes arranged in a seemingly haphazard manner in bright colors, forming a striking contrast with the surrounding scenery. 
The architectural complex is made up of a series of homes lining the Mediterranean coastline that reminds us of the adobe alcazabas, or fortresses, of northern Africa. The 50 homes are enclosed by an imposing red wall in a post-modernist take on Moorish architecture that forms a sharp contrast with the landscape.  
The Casbah collection comes in a range of colors in line with this architectural complex, which both match and contrast with the blue tones of the Mediterranean Sea and the green shades of nature. The collection ranges from natural tones, such as talc, sand, sky blue and pink, to deeper tones including indigo and reddish terracotta.  
The new collection by WOW Design comes in two versions — smooth surface tiles and volumetric tiles. Both versions feature a matte finish that is extra smooth to the touch and does not reflect the light.   
The 3D tiles included in the Casbah collection are reminiscent of the geometric shapes of "La Muralla Roja" and the homes protected by the red-tone fortress. The combination of bridges, stairs and walkways formed by geometric shapes break the symmetry, creating the sensation of being in a maze.   
The smooth  and volumetric tiles are combined ad hoc to create personalized spaces that give a sensation of movement. The collection features square-shaped tiles in 12.5-by-12.5 cm format, making them suitable for use in many spaces and offering countless combinations and geometric patterns.