XTONE Blue Roma Sintered Stone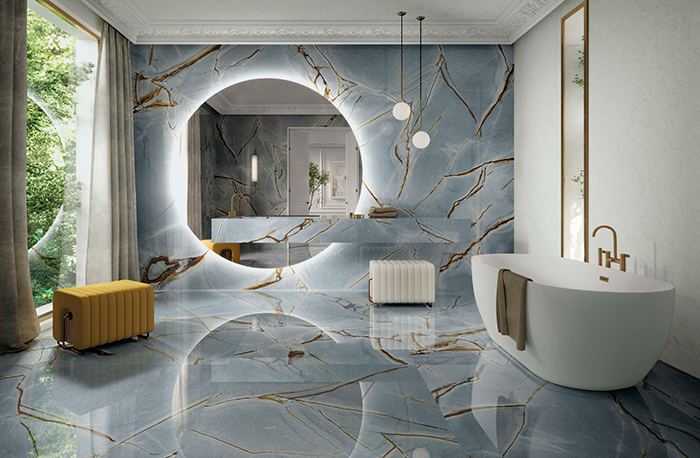 August 8, 2023
This story was originally published on August 8, 2023; it was updated on August 16, 2023.
With a captivating design that creates a strong visual component to any space, Blue Roma sintered stone from XTONE — part of the Porcelanosa Group — intertwines coppery veins with a distinctive and elegant grayish-blue canvas. This collection offers a natural aesthetic with distinguished character reminiscent of a dramatic blue quartzite. Blue Roma is available in 12mm or 6mm thickness, as well as in two finishes — silk and polished.
Due to its variety of formats and features, XTONE's sintered stone surfaces are an ideal material for both indoor and outdoor use with numerous application possibilities from flooring and countertops to decorative elements and more. Its large format allows for a continuous design that is seamless and boasts unlimited pattern variety. Blue Roma sintered stone surfacing is applicable for settings and environments from residential, contract and retail to institutional and beyond. XTONE surfaces are 100% natural, can be completely reused after their life cycle, and can be used for cladding, flooring, furniture and countertops. 
Blue Roma is produced in Porcelanosa's state-of-the-art facilities, which feature a total of 4,475 solar panels that promote sustainable energy consumption. The facility also recovers 100% of the heat from the kiln, reuses 100% of the water through a treatment facility and recycles 100% of waste by reincorporating it back into the production system.