Americh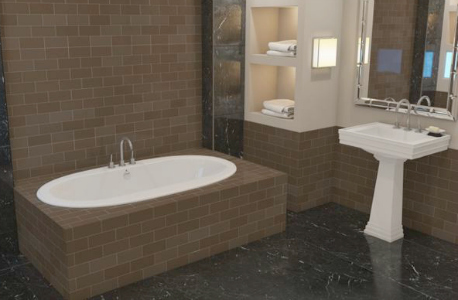 May 12, 2016
From Chromatherapy lighting and iBath sound to rotary whirlpool jets and an Ozone System, Americh's deck-mounted Esmeralda tub can be customized for a personal bathing experience. The Esmeralda is an oval shaped deck-mounted tub that can be ordered with several preconfigured bathing systems and can be further customized by choosing from a long list of optional accessories. It is constructed from acrylic material and is available in all of Americh's standard colors: almond, biscuit, black, bone and white.
Customers can choose from several different preconfigured tubs starting with the Builder Series. This tub features a whirlpool system with a powerful one horsepower pump and color matched trim. Next up is the Luxury System, which adds an Americh control panel and a low water level sensor to the above design. The Platinum Series ups the ante with the addition of rotary jets, a Syllent motor, Chromatherapy mood lighting, metallic or color matched trim and grab bars. The Esmeralda is also available in the Airbath System II and III, which surround bathers in a sea of bubbles.
The tub measures 66 by 36 by 22 inches and has a 63-gallon capacity when filled to the overflow.