Delta Faucet Co.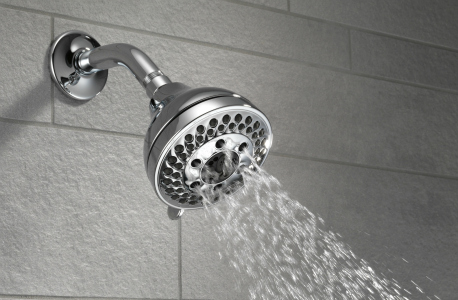 January 15, 2016
Delta Faucet Company and Unilever U.S. have introduced a co-packaged offering that includes the Delta Hydrafall showerhead with H2Okinetic Technology and Dove Deep Moisture Body Wash. The innovative Delta H2Okinetic Technology sculpts water into a unique wave pattern that provides larger water droplets for a warmer shower, delivering 2.0 gallons of water per minute that feel like 2.5 gallons. Switching to more efficient showerheads can save consumers up to 2,900 gallons per year according to the United States Environmental Protection Agency.
By pairing the Delta showerhead with Dove Deep Moisture Body Wash, which gently cleanses and provides softer, smoother skin after one shower, the companies are providing an attractive, practical solution for consumers in the face of climate change and water scarcity.
Pairing Delta Faucet Company's knowledge of water technology and showerhead design with Dove, a Unilever brand that is a recognized leader in the skincare industry, the companies hope to raise awareness and demand for showering options that can provide enhanced experiences with less environmental impact. The innovation behind Delta H2Okinetic Technology requires no behavioral changes by the consumer. In clinical tests conducted by Unilever, when Dove Deep Moisture Body Wash is paired with Delta H2Okinetic Technology, it delivers an even more nourishing skin experience than a standard showerhead.