MrSteam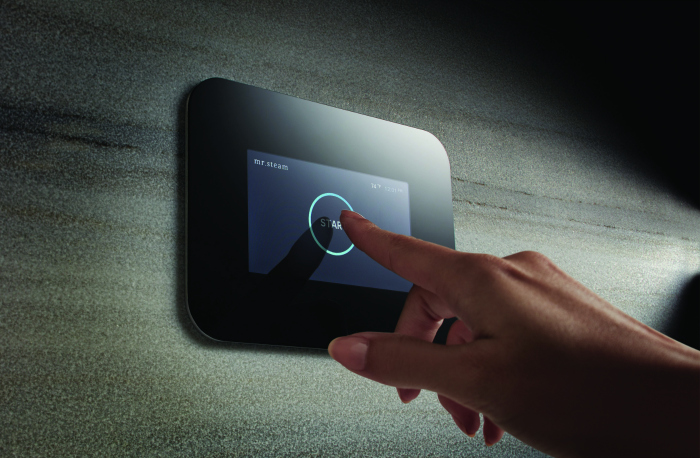 August 24, 2017
Delivering swipe-touch functionality and sleek, contemporary styling, the iSteam3 control from MrSteam offers a variety of exciting new options designed to perfectly adapt to the preferences of every bather to personalize the steam shower environment. Now available in black and white finishes, iSteam3 provides the option to choose a black or white display screen mode, fully accommodating the user's tastes and steam shower design. The MrSteam iSteam3 is design-matched to the high-grade AromaSteam SteamHeads and pairs seamlessly with the MrSteam E Series Residential Steam Generators.
Even installing the control is a more relaxing experience with the iSteam3, which features a special new "flip" function that allows the interface to rotate 180 degrees in the event that the control is unintentionally installed upside down.
Appealing to a wide range of customers, the iSteam3 control interface offers a choice of six different languages, including English, German, French, Spanish, Italian and Russian. Users can easily change the language through the Settings screen. For additional convenience, iSteam3 also provides a real-time clock feature and the controls can be password protected.
New features available with the iSteam3 include the ability to store settings for up to eight different users to deliver the ultimate in relaxation and customized luxury. The innovative AutoStart feature has been enhanced to offer up to eight different users the convenience of pre-starting their steam shower to warm up in advance to their personalized, preferred temperature.
Designed for the hot and humid environment of a home steam shower, the iSteam3 control offers a positive user experience and intuitive navigation. The bather can control a wide array of features with the simple touch of a finger, including temperature, duration, AromaSteam, ChromaSteam3 and AudioSteam3. Additionally, users can control functions of the steam shower on the go with the free SteamLinx App from their smartphone or mobile device.
Find more technology for the bathroom here.