BlueStar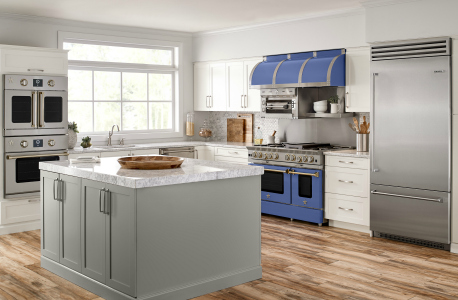 April 13, 2016
BlueStar introduces its first-ever built-in refrigerator line. Known for its handcrafted gas ranges, cooktops, electric and gas wall ovens and complementary kitchen hoods, the refrigeration line heralds a new era for the brand. 
The new BlueStar 36-in. built-in refrigerator features a commercial-style design with professional-grade elements like durable 304 grade stainless steel interiors and stainless steel and glass shelves and drawers. Rugged, commercial-style construction includes an articulating hinge that enables built-in or flush mounting. Ramp-on LED lighting reflects off the metal interiors and the intuitive OLED (Organic Light Emitting Diode) touchscreen offers precise temperature control and features like Max Ice.
There is a dual compressor system — one for the fridge and another for the freezer — for optimum food preservation and odor control. The refrigerator's fully extending bottom shelf fits a full-size commercial sheet pan — as does the freezer shelf. With a fully customizable design, shelves and bins easily can be changed. The refrigerator offers extra-large, fully extending drawers with soft, self-close glides, and the oversized freezer provides plenty of storage in metal drawers featuring soft-close glides. The built-in refrigerator is customizable as well; it is available in stainless steel and more than 750 color and finish combinations to match BlueStar cooking and ventilation products.  The refrigerator also offers the option of right or left side handles in 10 metal trims including stainless steel, brass and copper.