Bosch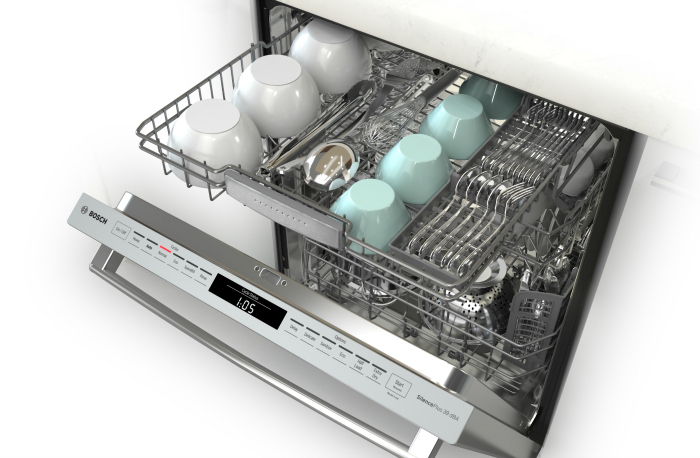 March 13, 2017
Bosch introduces a new dishwasher line designed to simplify kitchen cleanup through an array of features, including the new MyWay rack. To create the new line, Bosch conducted countless hours of consumer research, observing and analyzing how consumers interact with their dishwasher. These valuable insights into the most common challenges consumers face when loading and unloading the dishwasher informed the overall design of the line.
Features of the new dishwasher line include:
MyWay Rack: MyWay rack provides expansive loading capacity, offering the flexibility to meet the unique needs of every load of dishes. The tiered third rack provides space for hard-to-fit items like cereal bowls and large cooking utensils, while a silverware insert tray with foldable tines easily accommodates cutlery. What's more, the tiered angle of the MyWay rack creates space for stemware in the middle rack.
EasyGlide Rack System: The new EasyGlide Rack System simplifies loading and unloading the dishwasher by providing a smooth glide in the racks. The System features ball bearing wheels, which require less force than a traditional rack system to operate, making it easier to control the movement of fully loaded racks.
FlexSpace Tines: Since every dishwasher load is different, Bosch designed FlexSpace Tines to accommodate large or bulky items, including pots, odd-shaped pans or serving dishes. These adjustable tines allow the dishwasher to accommodate more items by making efficient use of the lower rack space.
ExtraDry: ExtraDry provides enhanced drying results by activating higher water temperatures during the final rinse cycle, ensuring dishes come out of the dishwasher dry.
Speed60: The Speed60 cycle transforms lightly soiled dishes from dirty to dry in about 60 minutes. This cycle uses sensors to detect the soil level and adjust cleaning settings to ensure sparkling clean dishes, fast.