Bosch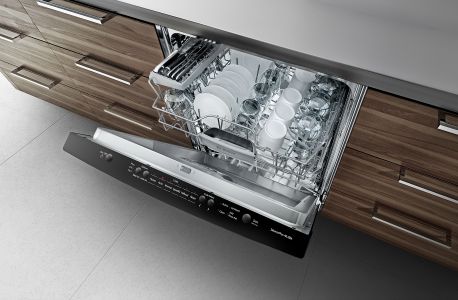 July 16, 2015
European kitchen design brand Bosch home appliances has unveiled its new Ascenta dishwashers. Available now, the Ascenta dishwashers combine affordability with the best of Bosch quiet, flexibility, performance and design.
Bosch continues its tradition as a quiet dishwasher brand with the new Ascenta models, which operate as quietly as at 46 dBA, which is four dBA lower than previous Ascenta units. The new Ascenta line is so quiet, a premium feature called InfoLight, which projects a red light onto the floor during the wash cycle, has been added to let owners know the dishwasher is running.  
The new Ascenta dishwashers also provide flexibility to allow consumers to more easily clean a variety of dishes, glasses and cutlery. Features include RackMatic, an adjustable top rack with multiple levels to accommodate tall glasses or large pots and pans, and additional flip tines that fold down to create space for difficult-to-wash items. A new knife rack provides space for safe cleaning of sharp knives and tools. 
The Ascenta line features a scoop handle, which joins the current recessed and bar handle options, and matches any kitchen with a neutral design. For added design flexibility, the new Ascenta models are available in three finish options: stainless steel, black and white.