Bosch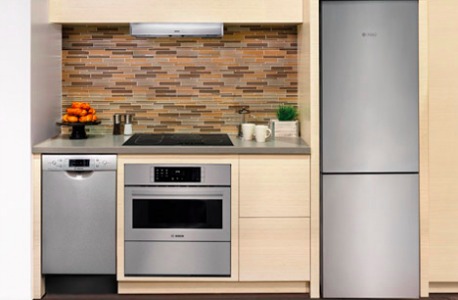 May 25, 2015
Bosch home appliances debuts compact kitchen and laundry appliances including 24-in. kitchen products and compact laundry pairs. This comprehensive Bosch portfolio uses sleek, modern, European design to meet the needs of the growing trend in small spaces. 
The new 24-in. kitchen from Bosch home appliances includes: the 24-in. Glass Door refrigerator available in black, white and glass or stainless steel options; the 24-in. Wall Oven, features 10 cooking modes and dual-level flexible broiling to accommodate standard and large meat sizes and the 24-in. Electric Cooktop and 24-in. Gas Cooktop for small spaces, a perfect companion for a Bosch 24-in. Wall Oven. 
In addition to the 24-in. kitchen, new compact laundry pairs will be available in three series, providing a range of design options and price points. The compact units are designed for environments where space is a consideration—the models are stackable and the ventless condensation dryers require no ducting to reduce the overall footprint. The new Bosch compact laundry pairs will be available in July.