GE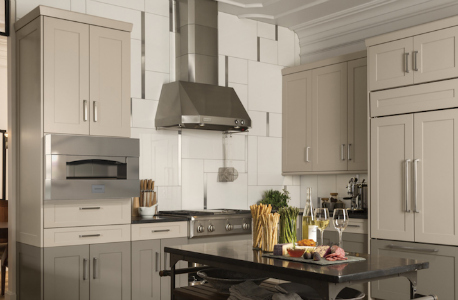 February 15, 2016
GE's Monogram Pizza Oven brings restaurant-quality cooking capabilities to the home kitchen, enabling home chefs to recreate their favorite pies—from the perfect Neapolitan to New York style and everything in between—quickly and with ease. Combining Monogram styling and the technology of FirstBuild, the Monogram Pizza Oven brings authentic old world taste to today's kitchens.
The Monogram Pizza Oven fits into the small space of a standard wall oven cavity, yet is spacious enough to fit a pizza peel and large pies for the whole family. Best of all, the Monogram Pizza Oven incorporates a compact interior ventilation system, requiring no special installation or construction. The Monogram Pizza Oven can cook pizzas in just two minutes after a speedy 30-minute preheat. Using regular electric power, the Monogram Pizza Oven delivers precise zone-controlled heating, enabling exact temperatures for your perfect pie. The oven can be integrated into your digital ecosystem with available app-linking for pizza at the touch of a button from your smartphone. 
The Monogram Pizza Oven was developed through FirstBuild, a new model of manufacturing that challenges makers around the world to ideate and help design innovations in home appliances.