Signature Kitchen Suite Panel-Ready Dishwasher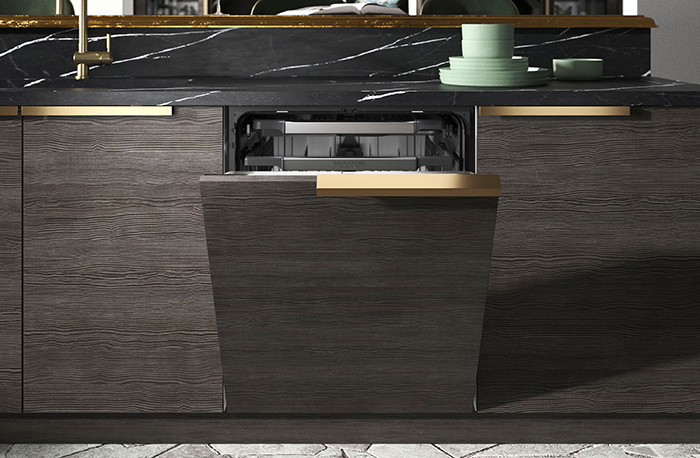 September 2, 2020
Signature Kitchen Suite expands its portfolio of built-in appliances with an advanced new dishwasher that combines high performance and high style with a panel-ready design and the combination of PowerSteam and QuadWash technologies.
The new dishwasher saves time by eliminating the need to pre-wash or rewash dishes by hand thanks to its PowerSteam feature's multiple steam cycles that help dissolve caked-on food and tackle heavy baking pans, while still being gentle enough for delicate stemware and china. With a second blast of real steam in the drying cycles, this feature can reduce water spots on dishware by up to 60 percent. QuadWash technology features four wash arms instead of the traditional two; the multi-motion arms rotate back and forth while spinning to power-clean dishes from multiple angles throughout the entire cycle.
With sanitization being a priority for many Americans, this dishwasher is certified by the National Sanitization Foundation to reduce bacteria on dishes by 99.999 percent with a steam cycle that reaches a final rinse temperature greater than 150 degrees Fahrenheit.
Homeowners and designers alike will appreciate the sophisticated built-in styling package as the dishwasher easily blends into a room's design. The paneled door is brilliantly engineered to safely slide away when opened, allowing users to mount the dishwasher at any height while being fully hidden behind the panel.
Signature Kitchen Suite's intelligent LED interior lighting package makes the loading and unloading process easier, while a beam of light shines information on the floor to let users know the status of the cycle. With LoDecibel quiet operation (44 dBA), Signature Kitchen Suite dishwashers are exceptionally quiet, so homeowners can enjoy a powerful clean—without disrupting their day.