Thermador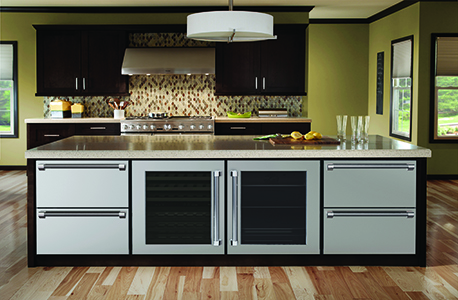 April 8, 2016
Thermador is expanding its line of Ultimate Culinary Preservation Centers to include the Wine Reserve Refrigerator and Double Drawer Refrigerator – each designed to be installed under the counter. 
The 24-in. Wine Reserve Refrigerator features six Wengewood shelves that can hold up to 42 750-ml bottles, dual temperature zones for red and white wine and UV-tempered doors with vibration control around the compressor. It offers the option for a left- or right-opening door featuring stainless steel and glass or a custom-paneled door. 
The 24-in. Double Drawer Refrigerator features two drawers and three preservation modes: refrigeration mode to preserve ingredients, pantry mode to store such items as flour or bread at a warmer temperature or bar mode to chill beverages at colder temperatures. Its stainless steel exterior can also accommodate custom panels, and it features removable dividers that can separate drawers into different areas or double as a shelf on the top drawer.