Thor Kitchen 36-In. Professional French Door Refrigerator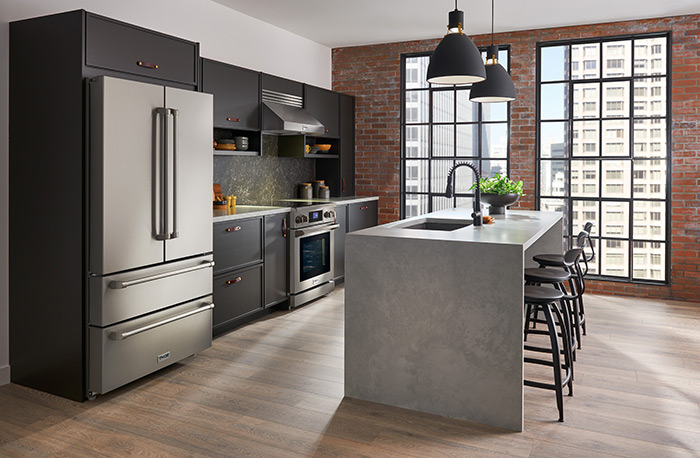 April 10, 2023
Thor Kitchen has released the 36-In. Professional French Door Refrigerator with Freezer Drawers. This stainless-steel unit's premium cooling features include a separate cool zone for an enhanced cooling space and a super freezing and cooling function that accelerates a temperature drop to the coldest setting within just 24 hours. The counter-depth fridge maximizes kitchen space with ample storage consisting of two freezer drawers, humidity-controlled crisper drawers, adjustable shelves and several door bins.
Thor's French Door Refrigerator with Freezer Drawers includes two separate freezer drawers to provide ample storage, with the top slide out freezer drawer featuring an automatic ice maker that produces up to four pounds a day.
Its generous 22 cubic feet of space includes two humidity-controlled crisper drawers to keep fresh produce, six 1-gallon door storage bins for large containers like milk and juice and adjustable shelves designed to provide a variety of configurations. The Cool Zone is a specialized drawer within the refrigerator that can hold a cooler temperature to properly store favorite desserts. Meanwhile, s Super Freezing and Cooling Function speeds up the cooling process of a freshly stocked freezer or refrigerator by dropping temperatures to the coldest settings within 24 hours.
The Energy Star Certified unit is designed with stainless steel and is counter-depth to maximize kitchen space and provide a clean design with a virtually seamless transition with the countertop. LED lighting is positioned throughout the interior of the fridge for better visibility of food.