Thor Kitchen Undercounter Cooling Products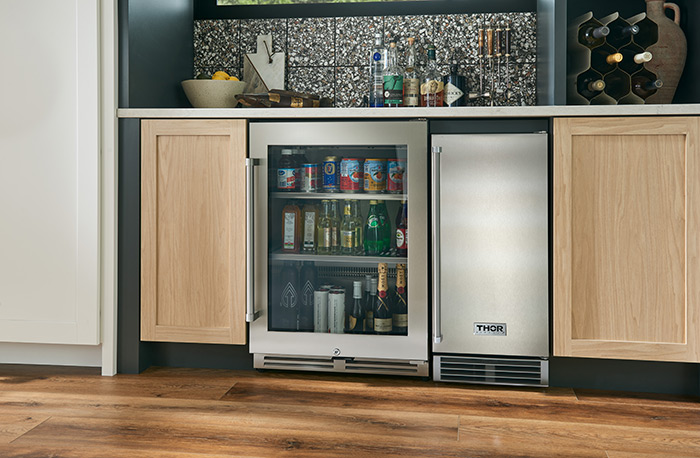 March 9, 2023
Thor Kitchen released a captivating pair of undercounter cooling products. Made with stainless steel for a professional, modern design, the 24-In. Beverage Refrigerator and 15-In. Ice Maker boast precise cooling technology and plenty of storage capacity to ensure cool beverages and ice are on-hand in kitchens, wet bars, home theaters and game rooms.
In the beverage refrigerator, a precise electronic temperature control with LED digital display that sets temperature between 34 to 44 degrees Fahrenheit and a no-frost cooling system with fan circulation keeps temperatures steady. Two adjustable racks give the unit maximum storage capacity to hold up to 140 standard 12-ounce beverage cans. Double-layered glass doors and a white LED back-lit interior wall provide a professional design and beautiful illumination to easily view all beverages.
The Energy Star-, UL- and EEC-certified Thor Kitchen ice maker features a built-in drain pump that removes excess water and allows for more flexibility when choosing an installation location. The ice maker creates a steady supply of up to 50 pounds of cube-shaped ice every 24 hours and an automatic shut-off engages when the 25-pound ice bin is full. A striking blue LED interior light illuminates when the door is open, providing increased visibility and a dynamic design addition.