Aran Cucine Rigoletto Plus Door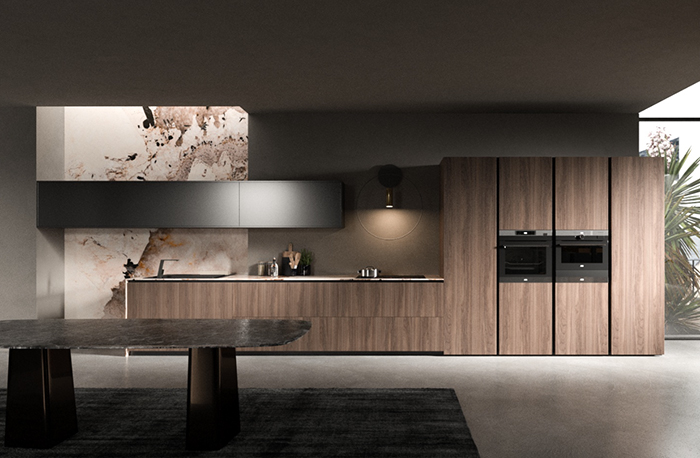 August 5, 2023
The elegance of wood moves away from tradition to meet the contemporaneity of Aran Cucine's LAB13 line, featuring the Rigoletto Plus door in natural American walnut. In this new composition, the return of wood results in the scenic immediacy of the new door chosen for base cabinets – with black aluminum groove – and for tall units – equipped with push & pull opening.
Grooves, vertical and regular, obtained from the slat woodworking, offer dynamism and rhythm to the apparently linear distribution of the LAB13 model. The clear and simple design plays with different heights that give movement to the cooking and washing areas. This last hosts the Dialogo kitchen sink that, with the multifunctional equipped tray, approaches to a workstation tailored idea built to facilitate daily activities.
Born from Aran Cucine expertise, the new LAB13 model with Rigoletto door is characterized by the combinations of different materials — the Magellan stoneware top expands in full length and height on the washing area wall, not only as backrest but creating a real mural.
A touch of contemporary chromatism is embodied by the wall cabinets, lacquered in metallic liquid lead, designed with a flap opening system to organize kitchen utensils or useful ingredients.
A linear disposition continues over the cooking area with a wall system, always characterized by the presence of the Rigoletto door, ready to give space to the oven and microwave, both recessed, to have – especially during preparing and cooking – all the necessary at your fingertips.