Dura Supreme Cabinetry Larder Storage Centers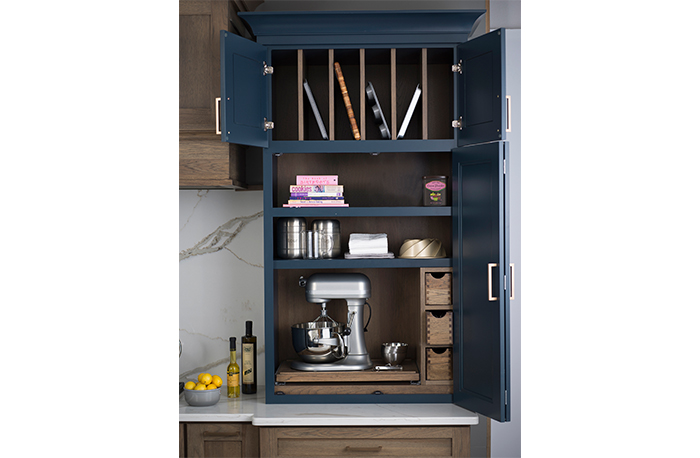 August 31, 2023
Dura Supreme Cabinetry has announced a new series of new customized pantry cabinets — Larder Storage Centers. As homeowners seek more kitchen storage solutions to help keep their countertops clutter-free while still offering all of their everyday items close at hand, the need for specified kitchen storage 'centers' is increasing. Dura Supreme's new larder cabinets are designed to make it simple and easy to design, customize and create the ideal storage to meet the needs of the homeowner's personal daily tasks.
With Dura Supreme's larder units, even those small appliances can be housed neatly and discreetly behind cabinetry. A Beverage Center Larder Cabinet can be a highly functioning coffee station or house a complete home bar setup, while a Storage Center Larder can be used as a breakfast station to make mornings a breeze or a Baking Center Larder can be used to keep baking prep and cleanups to a minimum.
Resting at countertop level, these cabinets are designed as a workspace as well as a storage unit. Each larder cabinet can be customized with a variety of options, including pocket doors and the option to include a Power Station for easy operation of your small kitchen appliances within the cabinet. The new pantry cabinets provide a substantial amount of additional functionality to a kitchen design and they are attractive inside and out.