Grass America Kinvaro Lifter Systems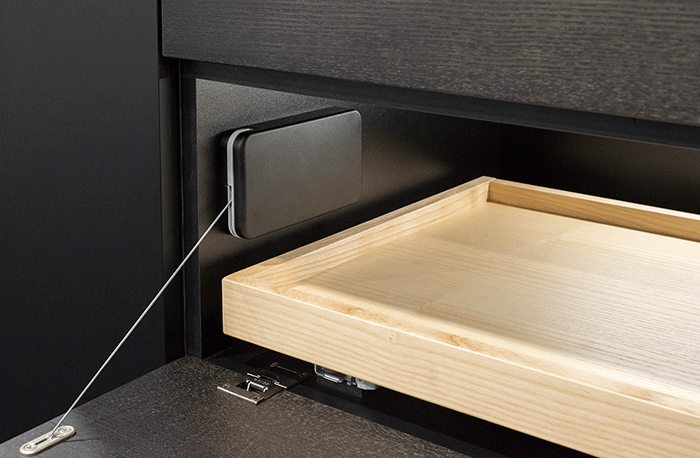 October 23, 2023
Grass America has introduced updates to its Kinvaro lifter systems. This innovative line heightens cabinet accessibility by lifting doors up and away, providing complete access to its contents. Kinvaro lifters offer a contemporary look and improved functionality over traditional swinging doors in applications where the door swing is limited or obtrusive, as well as in hard-to-reach areas. With stable and reliable motion, easy and quiet application, and an ergonomic design, Kinvaro exemplifies innovation for accessible, functional movement.
Kinvaro's focus on accessibility and unique action makes the collection ideal for a range of applications. The lifters are well suited for full-width pull-out shelves as the hardware does not protrude into the lower cabinet space. This feature also makes the lifters an excellent fit for areas with narrow or limited door angles. Popular applications of Kinvaro lifters include appliance garages, entertainment centers, custom bar service areas, coffee stations and other high-use areas, in addition to traditional applications, such as ceiling-height cabinets and closet storage.
Effortless, smooth operation can be accomplished with the Kinvaro L-80 parallel lifter, which lifts upward in a single motion to reveal the full contents of the cabinetry. This lifter features a single-panel front that opens with perfect precision and in parallel with the wall cabinet. With its ability to pull straight up, the L-80 provides the ideal application for cabinetry that has added cornices and moldings.
When headspace is limited, the F-20 bifold lifter is the ideal solution. This lifter moves two horizontal doors together in one effortless motion. By splitting the door in half, the F-20 lifter allows full access to the cabinet while keeping the lower half and handle within easy reach.
The Kinvaro D drop-down flap lifter (pictured) revitalizes drop-down cabinet applications by creating aesthetically clean lines, a minimalist look and easy access to cabinet contents. With the help of the Tiomos Flap Hinge and the Dynapro Base Mount Slide, the Kinvaro D's gentle opening rests at 90 degrees, offering a fully integrated damping system. A variety of configurations and motion paths are available with Kinvaro lifters, bringing wide-open accessibility, comfort and effortless movement.
The newest member of the Kinvaro family is Kinvaro T-Slim, the thinnest, most efficient lifter system ever developed. At 12mm thin, the mechanism can be mounted to the side of the cabinet or fully recessed into the cabinet wall, making it nearly invisible. This configuration unlocks a wide variety of new design possibilities to inspire cabinet manufacturers and furniture designers.
Photo credit: Grass America