Rehau Rauvisio Noir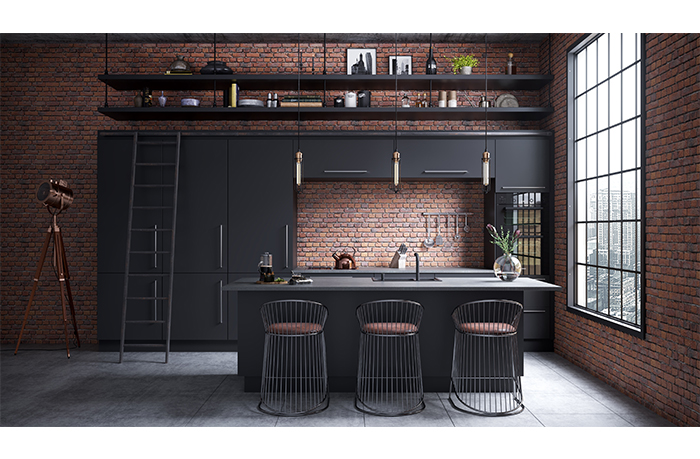 July 2, 2020
REHAU launches its RAUVISIO noir monotonic matte surface featuring the intensely rich and muted aesthetic of film noir. Forged in Italy with the finest materials and offered in North America as surfaces and custom cabinet doors, the new super-matte collection aspires to become the soul of modern residential and commercial spaces.
Like the film genre, RAUVISIO noir bridges two worlds: the forged and the refined. Labeled "monotonic," RAUVISIO noir retains all of its elemental properties while delivering unwavering resilience, reliability and richly uninhibited elegance. The deeply light-absorbent surface resists scratches and fingerprints while providing a touchable matte that invites the senses and the spirit to linger.
Storied surfaces: Depth beyond what meets the eye
For the past six years, North America's leading edgeband manufacturer, has developed and curated luxurious, high-end surface collections that span inspired aesthetics from around the world. With surface and custom cabinet door solutions that now encompass more than 100 finishes in matte, high-gloss, glass, natural and metal, REHAU's RAUVISIO brand allows both consumers and designers to create spaces with storylines as unique as their own life experiences.
"With its silky finish and deep, opaque color palette, RAUVISIO noir builds a refined foundation for even the most exuberant design," said Jesse Collins, REHAU senior marketing and communications manager. "From black and whites to deep grays, muted sea and emerald tones, each of the 12 RAUVISIO noir colors evokes a story of its own, drawn from the classic and timeless film noir experience."
Rugged materials: Resilient and hygienic  
RAUVISIO noir cabinet doors feature double-sided matte with matching REHAU LaserEdge zero-joint edgebanding, resulting in a monolithic effect that rivals solid compact doors. The monotonic matte surface is laminated onto a super-refined MDF core with PVA glue to ensure the highest quality finish. The surface can be used in both horizontal and vertical applications and is also offered as sheets, boards and edgebanding.
RAUVISIO noir delivers an environmentally friendly surface, with a negligible total VOC count of less than 0.1 mg/m3. It is also phenol free, meaning irritants will not affect the indoor air quality. The engineered MDF core is CARB2, TSCA Title VI certified and NAF (non-added formaldehyde) exempt.