Showplace Cabinetry Lane Door Style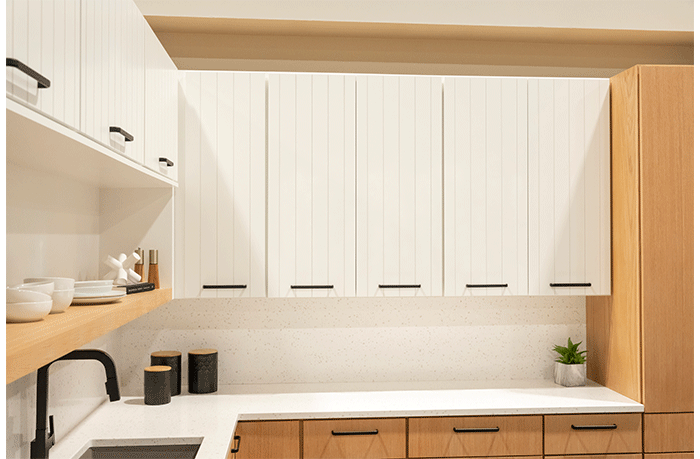 April 20, 2022
Showplace Cabinetry is excited to launch their newest door style "Lane." Lane is a modern offering with sleek vertical kerf cuts. It was developed in-house at Showplace with inspiration from dealers, customers and designers.
"We're constantly looking to innovate and reflect the taste of the times," said Lisa Myers, product development and design manager for Showplace.
The vertical kerf cuts used in Lane have been gaining popularity among consumers and designers. Showplace Cabinetry's Lane features a variety of specialty finishes in full-framed overlay and inset options, all featuring 3-in.wide vertical patterns.
Specialty finishes include: Vintage, Subtle Vintage, Brushed Vintage, Refined Vintage, Glazing and Distressing. The Evergreen Fog and White Dove stain options have been especially popular.
"With the launch of Lane, we believe we've added a really elegant and timeless style," said Hannah Gebauer, director of marketing.
The Refined Vintage finish is also new to the Showplace family of products. It was created in response to demand for a product that has some distressed features, but is not fully distressed. This "medium" distressing includes features like chain denting, worm holing, rasping and gouging and is available in a variety of colors and accent finishes.
Showplace Cabinetry recently celebrated the shipping of its three millionth cabinet from its production line in Harrisburg, S.D. The company continues to launch new products like Lane and Refined Vintage with a company focus on design innovation.