Vauth-Sagel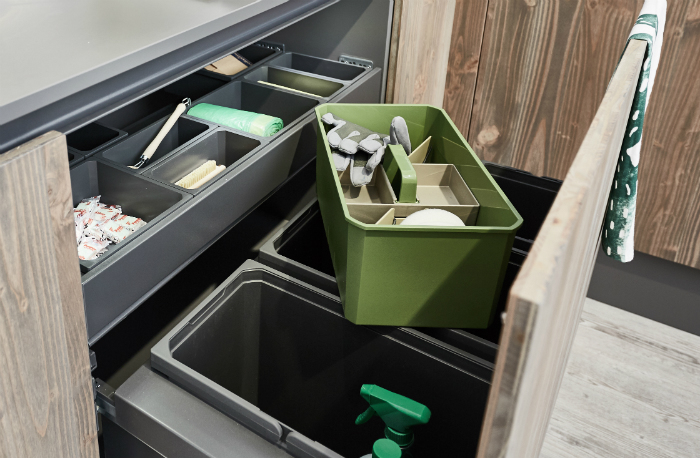 December 21, 2017
System specialist Vauth-Sagel's VS Envi Space does everything that is required of a modern waste separation system. It rests on slides, can be pulled out fully and features details like a soft close mechanism. It opens and closes easily and almost noiselessly. Two fitting heights and a wide range of bin sizes from 20 liters to 60 liters allow the system to be customized. The modular concept makes it easy to configure a system that meets the locally applicable disposal regulations, which can vary greatly, or to create customer-specific depth versions in order to install a boiler below the sink, for example. The bins are closed by robust, double powder coated metal lids that also provide additional storage space.
Optionally fitted above the VS Envi Space bin system, the organizer drawer VS Envi Drawer not only utilizes the available storage space but also organizes it on the basis of a choice of plastic trays in various sizes. The trays can be positioned flexibly to take the pipes and traps below the sink unit into account or to allow the kitchen user to put them where required.
In addition to these options, all waste separation systems with bin sizes of 22 liters and above can now also be equipped with the VS Envi Tool Box. This new organizer element is made from high quality plastic and fits perfectly onto a 22-liter bin. The individual segments can be divided and separated as required, and the layout can easily be changed at any time to meet varying needs. The new VS Envi Tool Box matches the existing VS Envi product range and is therefore available in all of the standard widths of 500, 600 and 900 millimeters. Various dividing and fitting accessory elements, a range of fresh colors and end consumer packaging perfect the concept.
Find more cabinet solutions here.