California Faucets La Spezia Kitchen Faucet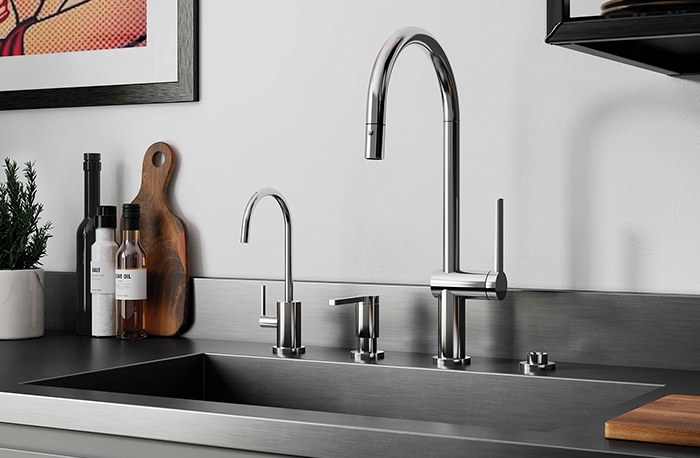 August 4, 2023
Recently named a Best Value in Luxury Faucets by StarCraft Reviews, the modern La Spezia kitchen faucet from California Faucets boasts a fresh new vibe. The latest addition to the company's popular Kitchen Collection, La Spezia features a sleek and cylindrical shape complemented by a cantilevered handle. Thoughtfully designed to blend curves and contours with a strong geometric silhouette, the faucet offers a wide array of sizes, configurations and sprayhead styles, as well as more than 25 artisan finishes. Streamlined and minimal yet bold and striking, the new faucet brings creative choice and freedom into a contemporary kitchen design.
Made of solid brass, La Spezia feels sturdy in the hand yet is light and ergonomic to use. The sleek stick handle allows you to smoothly adjust water flow and temperature and the body rotates a full 360 degrees for added convenience.
Designers and homeowners can choose from a High or Low Arc Spout design or select the more geometrically shaped Quad Spout. Each size and configuration offers a choice between a Squeeze Handle or a Button Sprayer, both of which make washing dishes and clean-up a breeze.
To infuse a sense of modern luxury throughout the entire kitchen design, La Spezia includes a complete collection of accessories. Perfectly coordinated bar faucets, pot fillers, soap dispenser, hot- and cold-water faucets, appliance pulls, cabinet pulls and knobs echo the new faucet's sleek and minimal silhouette. The accessories are also available in California Faucets' 25-plus artisan finishes.