Diesel Living with Lodes Reglobe Pendant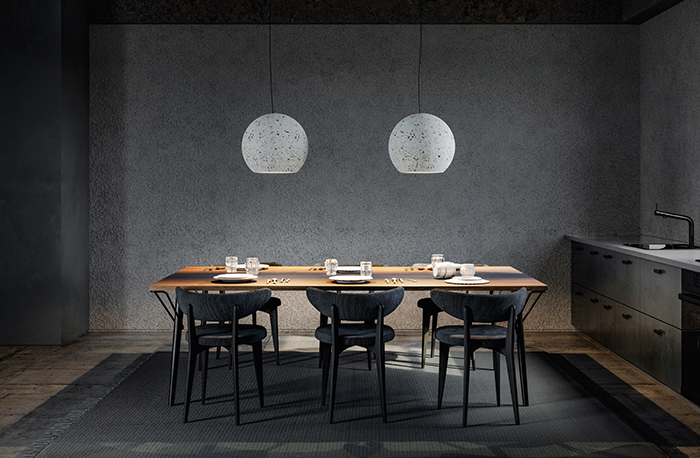 September 19, 2023
The Diesel Living with Lodes line has expanded to include Reglobe, a new pendant lamp made of recycled plastic. The sustainably minded addition features Diesel's unmistakable design language, yet tackles the concept of circularity through a contemporary physical form.
​​Reglobe references certain styles from the 1960s, due to its industrial development techniques. The process employs rotational molding to assemble variously hued plastic grains, creating a terrazzo effect. The end result is a voluminous, spherical object featuring a white background adorned with brightly colored, speckled accents.​​
The lampshade is made of a compound that incorporates partially recycled plastic derived from production waste. Developed with circularity in mind, the Lodes and Diesel shade utilizes 50% virgin LLPDE (linear low-density polyethylene) and 50% recycled polymer. Each lamp is unique with chromatic tone variations that depend on how the various colors are mixed throughout the production process, resulting in an eye-catching "random terrazzo" finish.
The lampshade houses a white conical metal diffuser at its bottom, which prevents light from filtering through the shade and renders it opaque. Fittingly, the light source contains a connection for an E27 bulb that emits light downwards, while a black power cord forms a striking contrast.