DMF Lighting X Series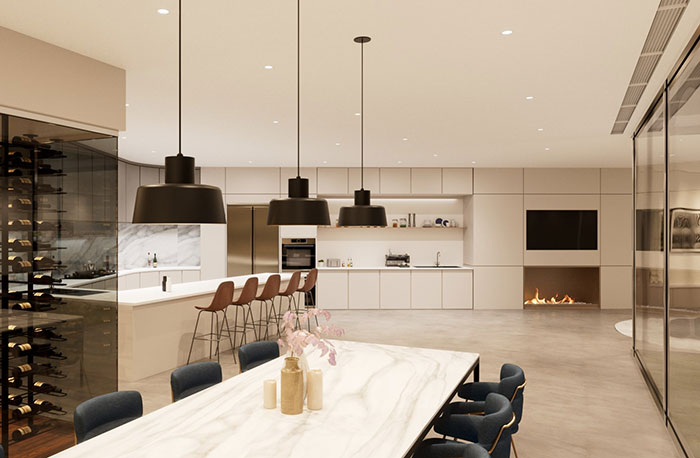 April 26, 2023
DMF Lighting has introduced the X Series, a collection of completely modular 2-in. downlights and 3-in. cylinders with field-changeable trims, modules and optics for exceptional versatility. The small-aperture series provides the ultimate in performance, installation and serviceability, as well as finish options. 
A breakthrough for error-free installation, the downlights are shipped with a patent-pending Precision Lock Collar that eliminates over-cutting and drywall repair, which can be common with small-aperture fixtures. The Precision Lock Collar provides depth adjustment and a secure fit, making flush-to-ceiling installation in drywall or millwork easy to achieve.  
The modules are offered in Fixed and Adjustable (360-degree rotation and 35-degree tilt) and pair with a universal housing, offering a small footprint without sacrificing light output. Lumen outputs range from 750 to 1,500 lumens – comparable performance to 3- and 4-in. downlights in ceilings up to 10 feet. 
DMF drivers are integrated into the light engine modules versus the housing, providing ideal space efficiency, performance, reliability and serviceability. The X Series housings have a unique trap door that provides post-install access to the splice box below the ceiling plane. Together these features allow for painless serviceability, unheard of in a 2-in. fixture. 
The tool-less, field-interchangeable optics allow for ultimate flexibility in aiming a project and include 15, 25, 40 and 60 degrees and Linear Spread distributions. Color temperatures range from 2,700K – 4,000K and include Warm Dim and Tunable White with a 93+ CRI. 
The X Series downlight's die-cast aluminum knife-edge trim options are available in round and square apertures and in downlight, wall wash, flangeless and decorative choices. The trims are meticulously engineered to provide precise and exceptionally easy installation. Every element of the X Series is designed to complement or disappear into any space, creating a modern, quiet ceiling. 
The trims are wet painted for a rich, matte finish in five standard finishes or custom color (RAL). Like the light modules, the trims are completely interchangeable so any design changes can be easily swapped on-site. 
The modularity of the X Series system allows the housings and the light modules to ship separately, so the housings can be installed before the lighting design is finalized, reducing on-site storage requirements while maintaining tight project deadlines.  
The X Series Cylinders include pendant, surface-mount and wall-mount solutions with field-changeable trims, decorative diffusers, snoot and optics, providing a superior level of flexibility and customization with a choice of more than a million configurations. The series includes an ADA-compliant wall sconce, as well as an uplight option for direct and indirect illumination. The X Series Cylinders are offered in 6- and 9-in. lengths with lumen outputs from 750 to 1,250 lumens. Pendant cord and stem lengths can be adjusted on site for maximum flexibility. 
Featuring a sustainable design, the downlighting system is compliant with California's Title-24 JA8, Energy Star, and Declare Listed for Living Building Challenge and LEED projects. The downlights are IC and wet location listed. The housings also meet Chicago Plenum requirements.