Kichler Lighting New Modern Collection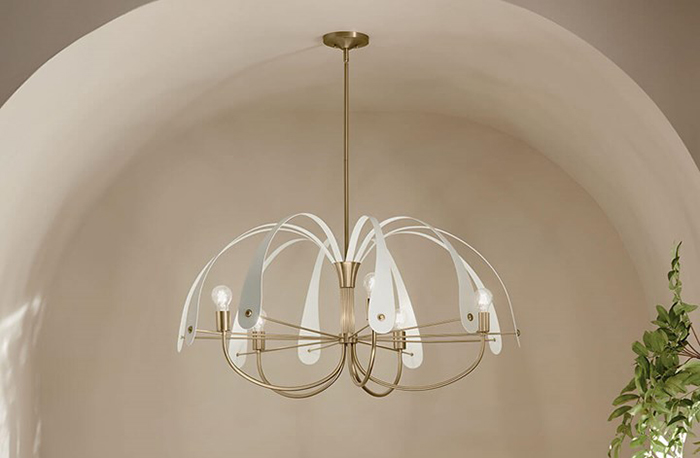 May 29, 2023
Kichler Lighting LLC has announced new interior decorative collections including New Modern, which brings an edgy mood, soft curves, contrasting finishes and adjustable elements for one-of-a-kind looks. The new release offers a fresh perspective on ceiling lights with oversized flush and semi-flush fixtures, as well as smaller decorative alternatives to downlights, giving consumers and designers more stylish options for the ceiling. The line was curated to allow the fixtures to complement each other or be easily paired with other Kichler collections. Kichler's newest fixtures are available in several finishes, including black, white, champagne bronze, polished nickel and classic pewter.
The New Modern collection includes 11 new families: 
Deela: Inspired by the simple, soft curves of a Ukrainian vase, the Deela collection has a sculptural presence. Deela's clean design illuminates in true soft modern splendor.
Hex: The Hex collection spotlights bold geometric shapes and clean, minimalistic stylings. Hex gives you a truly modern look.
Petal (pictured): The Petal collection marries the soft curves of nature with the high elegance of Art Deco design. Petal takes style to an unforgettable level. 
Torche: Inspired by knurled hardware and modern aesthetics, the Torche collection enriches your space. Clean lines, classic forms and modern finishes make Torche trendy yet timeless.
Phix: Featuring a classic mid-century silhouette, the Phix collection is modern style you can truly customize. Adjustable shades and dual finishes let your inner designer run wild.
Albers: On-trend yet timeless, the artistry of the Albers collection is instantly evident. With its less-is-more approach, Albers proves statement pieces don't need to be complex.
Odensa: The Odensa collection is soft curves, elevated details, and modern style. Designed to impress, Odensa updates your space with its graceful elegance. 
Solia: The Solia collection celebrates modern's simple and clean design approach. With dual-finishes and opal glass, Solia exudes refinement and sophistication.
Farum: Dressed in the most refined shapes and finishes, the Farum collection illuminates beautifully. A chameleon of style, Farum easily blends with your decor.
Arcus: Patterns found in nature inspired the Arcus collection, reflected in its soft curves, long stems, and leaf-inspired shades. Arcus is modern lighting that's as stylish as it is functional.
Gala: Clean lines, mixed finishes, and adjustable arms make the Gala collection functional sculptures. Reinvent your space with this truly modern lighting collection.