Schonbek Forever Collection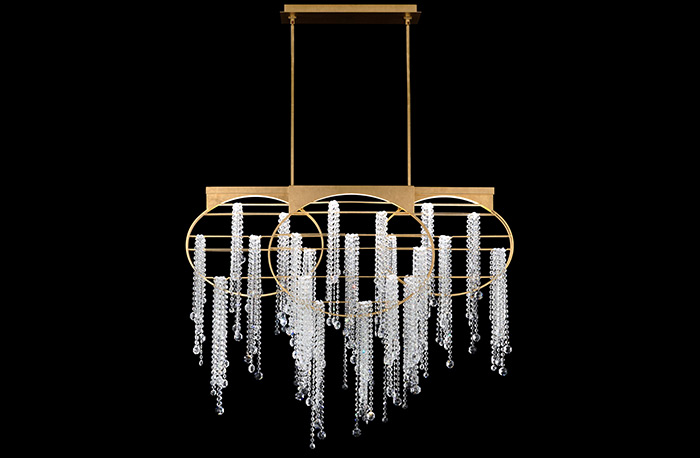 May 7, 2023
The Forever Collection by Schonbek debuted as a luxurious offering of crystal pendants, wall and tabletop luminaires at the High Point Spring Market. Each flawless, jewelry-inspired lighting piece was created from sparkling Radiance Crystal to enhance the scintillating play of light emanating from these alluring fixtures.  
Entwining crystal and light, Forever symbolizes the eternal power of people and space. As intricate and beautiful as the invisible knots binding lovers together, silky rope is an intimate element of each sparkling design, with radiant crystal and lustrous pearls adding elegance to every enchanting fixture. Balancing strength and seductive refinement, these luminaires are edgy expressions of deep connections, a visual celebration of a luxurious lifestyle.  
Integrating the latest LED technology with edgy modern design, Forever illuminates luxury spaces. Using color-selectable LED technology, a discreet switch inside each luminaire's canopy allows the CCT to be customized from soft white (3000K), neutral white (3500K) or bright white 4000K illumination.   
Among the many new offerings is the Fantasia series featuring 12- and 48-in. luminaires.  Tempting in brilliance, Radiance crystal gems drape gracefully over luxurious metal cuffs.  
Also new is the Laurel series, which features a glittering garland of interwoven Schonbek Radiance crystal blossoms, vibrant leaves and sparkling strands. A scintillating triumph of mesmerizing hues includes heirloom gold, antique silver and black.  
Expansive collections, such as Revere, present braided mesh chains and bonds of gold that capture an orb topped with tiny jewels of Radiance crystal dust, spreading light throughout the space. Gorgeous adornments accessorize these seductive, glowing crystal ceiling and wall luminaires.