Arborite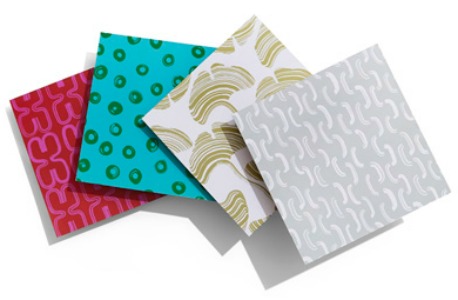 October 12, 2015
Montreal-based Arborite has introduced the second edition of its INK series of designer laminates. INK draws on the talents of designers of all industries, ranging from graphics to interiors to art and architecture, to create dynamic designs unique to the laminate world. The latest patterns added to the INK collection come from the minds of graphic designer Giona Maiarelli, founder of Maiarelli Studio, and interior designer/illustrator Marina Sagona, co-founder of interior design company Less&More. Drawing inspiration from such diverse ideas as astrology and mid-century modern trends, the two creatives developed four ideas each for a total of eight fresh and energetic patterns that encompass Arborite's approach to a classic material.
Although their designs showcase different aesthetics, both Maiarelli and Sagona approached their patterns with a sense of nostalgia for their whimsical, youthful memories, choosing concepts that recalled the past, but perfectly updated for modern use and application.
Giona Maiarelli, who contributed to original INK collection, was inspired by retro surfaces common in the late 1960s/early 1970s. Maiarelli grew up in Northern Italy, and the collection was influenced by the American media he remembers, such as wood paneled cars on TV—a continuation of the abstract woods presented in his first INK designs.
Similar to Maiarelli, designer Marina Sagona also looked to the 1970s for inspiration. Sagona selected 70s motifs to form the basis of her designs. The color palette is translated through the eye of her life in New York City, with funky hues such as bold greens and hot pinks. Sagona's patterns appear almost painterly, with an imperfect brush-like effect that forms each motif in a sweeping stroke, further enhancing her collection's childlike wonder.
Their 2015 Arborite INK designs are:
Giona Maiarelli
Stella – This pattern mimics the night sky, connecting the dots between recognizable constellations. Colors: Blu, Yella
Topographik – A play on wood grain, Topographik displays concentric curves for an abstract take on the natural material. Colors: Moss, Clay
Intarsio – Featured in two neutral hues, this design uses geometry to create a modern laminate that looks like inlaid wood. Colors: Light, Dark
Tangram – Tangram mixes and matches triangles of various angles and sizes for a tiled effect in fresh, pastel neutrals. Colors: Sea Wash, White Wash
Marina Sagona
Anellini – Meaning "little ring" in Italian, this pattern's miniature circles are an homage to some of the most beloved foods: the donut and a delicious and iconic New York City bagel. Colors: Blu, Grigio
Ginkgo – Inspired by the Ginkgo leaves Sagona remembers from her mother's skirt, this design displays a painterly play on the plants. Colors: New York, Kyoto 
Arco – Using a brushstroke-like motif, Arco's semi-circle pattern is perfect for coordinating in a subtle neutral or standing out in a bold blue. Colors: Blu, Grigio
Nuvole – Nuvole showcases a splay of abstract clouds in playful colors. Colors: Grigio, Rosso