Armstrong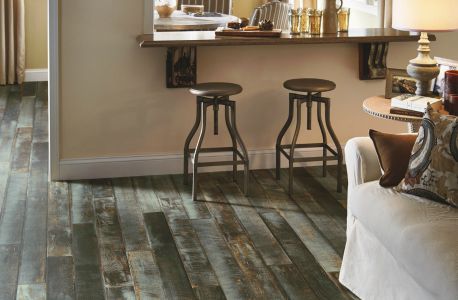 July 30, 2015
Armstrong Flooring has added three designs to its popular Architectural Remnants laminate collection – To the Sea, Seaside Pine and Surf Side – each of which pairs the look of high-end, reclaimed hardwoods of various species, colors and rustic textures. Armstrong's new laminate floor options offer vintage-inspired and coastal designs that give a space an ocean-kissed look.
To the Sea offers colors and textures reminiscent of vintage wooden buoys and reclaimed clapboards from old fishing shacks with comforting hues of teal and gray. Surf Side has the look of white oak, rustic and weathered, recycled from a vintage front porch where a hint of blue-gray paint remains. Seaside Pine mimics pine timber, dismantled and reclaimed. The wear and tear and small distress marks on what once might have been exterior, utilitarian planks, add dimension to the rustic nature of this floor.
Architectural Remnants feels more like solid wood when you walk on it. That's because the 12-mm. board's thick HydraCore Plus core keeps the laminate stable and flat. The extra density of a thicker board also helps to dampen sound. And when it comes to decorative surface treatments, a thicker board allows for deeper embossing. Armstrong's Lock&Fold system offers fast and easy installation – just lock and fold, and the floor is ready to be lived on. Architectural Remnants comes with a 50-year residential warranty as well as a 10-year commercial warranty.