Casalgrande Padana Era Collection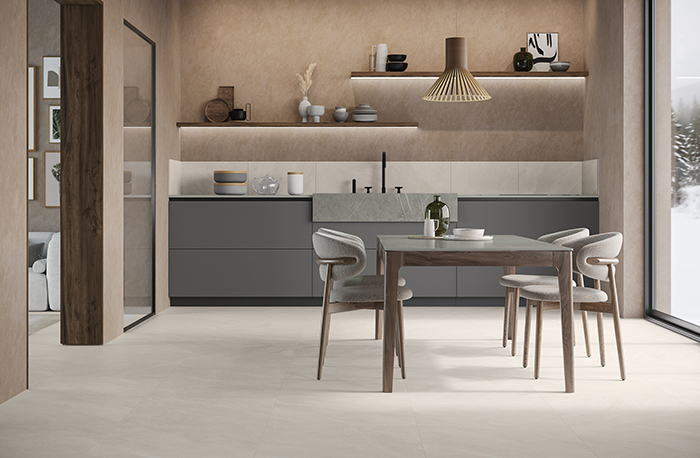 August 30, 2023
Casalgrande Padana's Era Collection combines stone's natural charm and porcelain stoneware's outstanding technical features, elevating their application potential. Irregular veining, harmonious nuvolato effects, delicate colors, and play of light and shadow emphasize these tiles' color and the pleasant tactile quality of their reference material.
The Era collection comes in six colors — bianca, bruna, crema, grigia, perla and pepe — and various formats. The 30-by-60, 60-by-60 and 60-by-120 cm formats are 9 mm thick and feature a natural and anti-slip Grip version. The 120-by-120 cm format is 9 mm thick and has a natural finish. 
The outdoor version of the Era tiles is 20 mm thick and is available in beige and taupe in the 60-by-60 and 60-by-120 cm formats. These tiles' excellent technical features and anti-slip finish make them perfect for color-coordinated projects with visual continuity between interiors and exteriors. 
Era stone-effect tiles are perfectly rectified and are an ideal choice for tiling terraces, patios, verandas, walkways and swimming pools. The Era collection is ideal for walls and floors, interiors and exteriors, residential and public projects, and new and restored buildings. In addition, it allows for multiple combinations to create original rustic, contemporary, minimalist or urban chic spaces. Casalgrande Padana's new collection is flexible and versatile and can be used for creating bespoke furnishings.
Casalgrande Padana porcelain stoneware tiles are long-lasting, unalterable, non-absorbent and antibacterial, thanks to the Bios Antibacterial technology (available upon request). They are also inert and resist flexure, frost and wear.
They are completely recyclable and are not affected by temperature fluctuations, whatever the latitude. In addition, these tiles do not warp, ensure high mechanical strength, remain unchanged over time and do not age.