Formica Corporation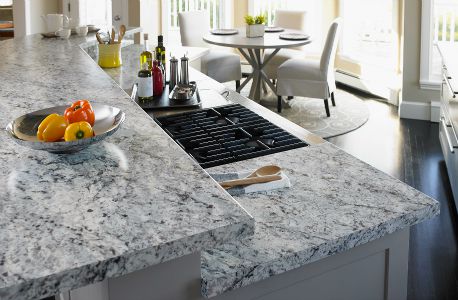 July 31, 2015
Formica Corporation has introduced six new Formica Brand Laminate PremiumFX patterns: four fresh stone and concrete looks as well as two new horizontal wood finishes. Paired with the company's IdealEdge decorative edges, these new patterns offer the beauty and sophistication of natural wood and stone at a fraction of the cost. 
The four new stone patterns include: 
Marfil Cream with warm white tones and light gray accents is lightly textured and smooth to the touch with a low-gloss visual. This pattern comes to life with the new ScovatoTM finish. 
Marfil Antico in the new ScovatoTM finish is made up of travertine beige with dark gray accents. Light veining adds character to this monochromatic stone. This pattern is perfect for those who want the cool look of concrete without the maintenance hassles. 
Silver Quartzite in the new ScovatoTM finish was created to mimic natural stone. This pattern boasts a silver background laced with white and black veining. Whispers of charcoal, rust and gray are present throughout. 
Finally, the luxurious and classic look of white granite is showcased with a bold twist in the White Ice Granite in the ArtisanTM finish. This pattern features a white background, blue-gray and warm gray clouds and charcoal veining. 
The two new wood grains in the Natural Grain finish include:
Oxidized Beamwood is an elegant wood grain with soft brown tones perfectly weathered with a gray patina. This new finish enhances the look of modern or distressed woods in cathedral and straight grains. 
Capturing the popular trend of reclaimed wood, Salvage Planked Elm creates a dramatic visual of painted, vintage wood planks.