Graham & Brown Clarissa Hulse Collection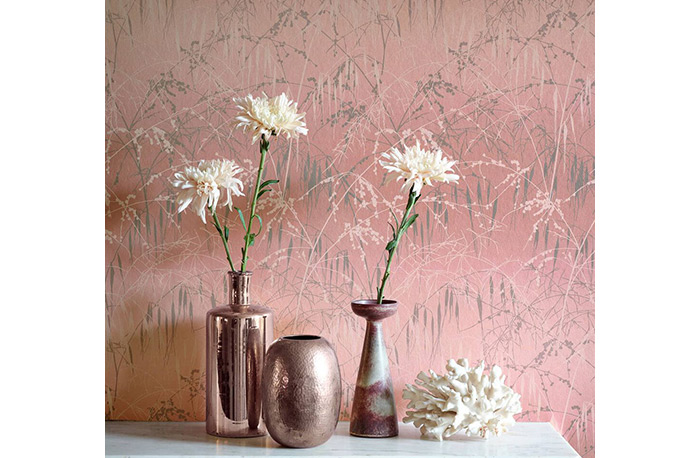 April 23, 2023
Graham & Brown introduces the Clarissa Hulse Collection in collaboration with artist Clarissa Hulse. This luxury wallpaper and mural collection is the culmination of more than 20 years spent hand printing botanical designs and is a celebration of the timeless beauty of the natural world. Every leaf, stem, bud and flower was collected by Hulse in the wilds of the Wiltshire and carefully photographed back in her London studio. Biophilia is no longer just a trend but a lifestyle, and one that Hulse has long been championing through her designs.
The collection is an invitation to wander into a magical Wiltshire Garden where wildflower and seed heads glow against luminous, open skies. The colorful designs include Serendipity Mural, Meadow Grass (pictured), Summer Border and more. 
Seen above is Meadow Grass Shell & Pewter wallpaper — the combination of delicate shell pinks and luxuriant verdigris work in harmony to offer the perfect example of how to layer color, texture and pattern to create a striking yet elegant scheme. Golden meadow grasses arc gracefully against the pink ombre background of this gorgeous new printed design. Hulse created this signature design after spending a summer's evening photographing grasses in the fading light.
Turn any room of space into an enchanting meadow wilderness with the Serendipity Mural. Delicate layers of foliage in shades of olive, chartreuse and peacock draw the eye into this magical world. This large-scale pattern is available as a made-to-measure bespoke wall mural, making it unique to each space. It is available in three evocative colorways.
The new Summer Border design which is a portrait of a meadow wilderness, in luminous teal, turquoise and chartreuse palette. The design was inspired by one of Hulse's favorite haunts — a magical garden belonging to her friend and renowned garden designer Tania Compton. The abundant tangle of grasses, teasels, dill seeds heads and verbena capture the essence of wild and natural beauty.
The wonderful, bright and bold collection of new wallpapers has been produced in collaboration with Graham & Brown. All wallpapers are available in a wide selection of shades.