HFLOR by LX Hausys America PRESTG XL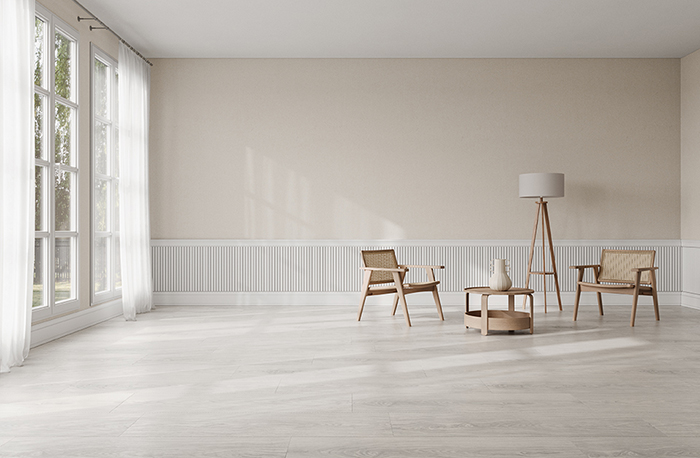 September 4, 2023
HFLOR by LX Hausys America Inc., an innovative manufacturer of building and decorative materials, is introducing the PRESTG XL Collection. The foundation for homeowners' design aspirations, PRESTG XL luxury vinyl tile offers extra-large planks, measuring 9 by 60 inches, which create a spacious, relaxed environment. Refined wood grains, neutral color palettes and a textured surface create an authentic look and feel.   
The PRESTG XL Collection features three distinct wood designs — Modern Minimalist, Coastal and Legacy. Each design consists of four wood patterns reflective of its style's name. Embracing the power of simplicity, the visuals of Modern Minimalist feature lighter wood tones, softened grains and refined textures. Coastal's visuals evoke the beauty of sand, sea, light and water with sun-kissed wood tone looks. With its brushed texture and warm earthy tones, Legacy's visuals build on the traditions of family, community and local living.  
By approximately doubling the pattern size in comparison to conventional flooring, PRESTG XL can display large, beautiful pattern visuals, while offering versatile design options. Installed separately or in coordination with each other, the colors can make distinctive statements across a multitude of areas in the home.  
The collection's aesthetic appeal is equally matched by its multiple benefits suited for residential interiors. Created with C-EIR, LX Hausys' innovative embossing technique, the PRESTG XL Collection provides a realistic feel. This technology imprints captivating effects onto the surface, synchronizing the high-definition image and resulting in the authentic texture of wood and ceramic materials.  
Additionally, its SPC Core is highly resistant to water and moisture compared to other types of flooring. It will stand strong against water, maintaining its original appearance. LX Hausys' 5Gi Locking System allows for a convenient and timesaving floating floor installation where the product can be installed over the existing floor, and it can be restored to its original state when removed.  
The collection comes with a lifetime residential warranty and is backed by independent certifications attesting to its health and indoor environmental benefits. This includes an Environmental Product Declaration and a Health Product Declaration, along with FloorScore and Phthalate Free certifications.