HIMACS Gravilla Collection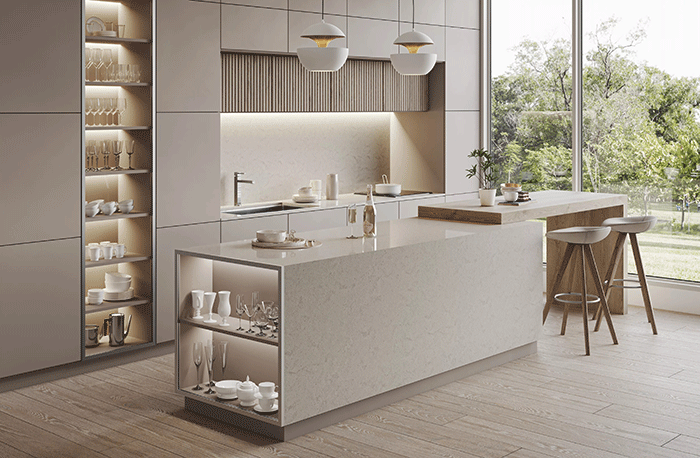 October 20, 2023
HIMACS has introduced new marble-effect colors to its Gravilla Collection, a fit for everything from kitchen work surfaces, splashbacks and islands to bathroom cladding, furniture and more. 
The collection follows the aesthetic veined trend of HIMACS' Aurora and Marmo collections but combined with granite particles for shorter veins and a chip effect. The new Gravilla colors have the benefit of being easier to fabricate with seamless joining, ideal for large surfaces, such as shower or wall cladding in a bathroom, long, wide islands in the kitchen or monolithic reception desks with big aesthetic impact. Gravilla Snow (GM01) and Gravilla Cream (GM02) are ideal for monochrome schemes, neutral décors, clean and crisp contemporary interiors and classic palettes.
Gravilla Snow is a sophisticated off-white design with soft veins and a gentle look and feel for a luxe look. It looks effortlessly chic in large and small kitchens and can be used to create a feeling of light and space in darker rooms or smaller areas.
Gravilla Cream has more of a rich flavor with toned-down cream particles, perfect for adding depth and a warm feel to cool schemes. It is suitable for kitchen islands and work surfaces, bathroom cladding and countertops. This warm-toned surface adds a calming and elegant feel to a space. 
Photo credit: HIMACS – LX Hausys