KOVA Casework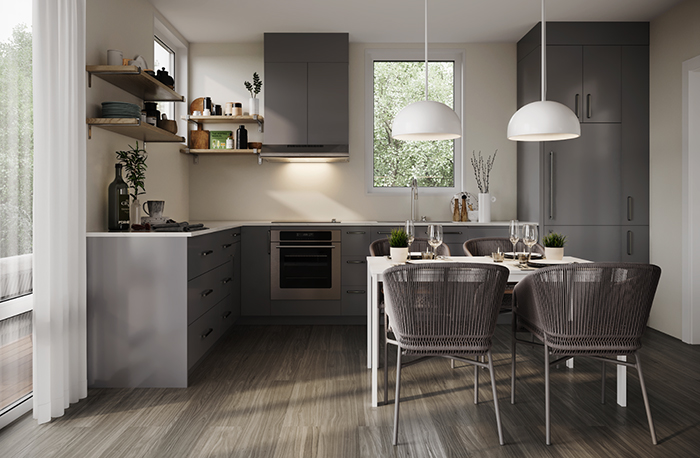 June 14, 2023
KOVA adds a flexible, high-quality line of casework to its cross-category Components collection, rounding out its kitchen and bath solutions. A natural progression for the brand, KOVA Casework is a highly customizable system designed to meet the needs of a wide range of projects, from residential kitchens and bathrooms to commercial amenity and lobby spaces. Thoughtfully curated finishes pair with high-quality casework to provide superior performance at an affordable price. 
KOVA Casework is a whole-project solution backed by the brand's single-supply chain capabilities which provide ease of design, procurement, and logistics. KOVA Casework is manufactured to order and shipped via flat packed system for efficient transportation, storage and easy on-site assembly using dowel and cam lock construction familiar to installers and contractors. As a one-stop solution that makes selection, specification and delivery easier, KOVA Casework can be paired with KOVA Quartz countertops and built into whole-project kitted solution with KOVA's product offerings, including plumbing fixtures, sinks, pulls and hardware, and shower surround systems; all available in a range of price points to fit different project budgets. 
Suitable for both commercial and residential environments, KOVA Casework is available in more than 40 finishes across three material categories including Melamine, Thermofoil and Polyethylene Terephthalate (PET).  
Melamine cabinets are constructed using a resin that is fused to a substrate made of particleboard or MDF. The resulting finish is tough, scratch-resistant and easy to maintain. These cabinets are offered in a range of colors and finishes. 
Thermofoil cabinets are made from a thin layer of vinyl that is vacuum-sealed onto an MDF substrate. They are highly durable, resistant to moisture and simple to clean. Thermofoil cabinets are available in a vast array of colors and finishes, including patterns resembling wood or stone. 
PET cabinets are made of polyethylene terephthalate materials, frequently sourced from recycled plastic. These cabinets are robust, resistant to moisture and easy to clean. PET cabinets come in a variety of colors and can imitate the appearance of wood or other materials. It is an eco-friendly alternative for those who wish to reduce their environmental footprint.